Don't Tell
(2005)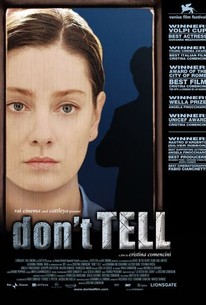 Movie Info
Dark shadows from a woman's past come back to haunt her in this drama from writer and director Cristina Comencini. Sabina (Giovanna Mezzogiorno) would seem to have a charmed life -- she has a successful career as a voice actress, a loving and supportive relationship with her boyfriend, Franco (Alessio Boni), and a pair of close friends she can confide in, Maria (Angela Finocchiaro) and Emilia (Stefania Rocca). But Sabina's contented existence is shattered when she inadvertently dredges up a long-dormant memory of how during her childhood she was sexually abused by her father. Confused and ashamed, Sabina finds it impossible to talk about her memories with Franco and her friends, but the terrible images refuse to go away. Seeking closure, Sabina travels to the United States to talk to the one person who may have a true insight to her problems, her brother, Daniele (Luigi Lo Cascio). Originally released in Italy as La Bestia nel Cuore, Don't Tell premiered at the 2005 Venice Film Festival. ~ Mark Deming, Rovi
News & Interviews for Don't Tell
Critic Reviews for Don't Tell
Audience Reviews for Don't Tell
This Italian movie, La Bestia Nel Cuore was also an Oscar nominated movie in 2005. It was based on her own novel "The Beast in the heart," director Cristina Comencini showed with this movie an issue of family secrets. Through Sabina, played by beautifully Giovanna Mezzogiorno, anxieties, nightmares, and through her brother Daniele's flashbacks of his childhood , to what their parents did to them, we could feel the painful memories.There were some subplots, like the infidelity of Franco while Sabina was away, a lesbian relationship that developed between Emilia and Maria which was not really necessary, along the main story of incest, it could only make it distracting.The message brought over from this movie was no matter how low you might have reached in your life,or how damaged you feel, there will always be a chance to renew and silence the demons from the past.
Daisy Maduro
Super Reviewer
[font=Century Gothic]In "Don't Tell," Sabina(Giovanna Mezzogiorno) dubs television shows into Italian for a living and lives with her boyfriend, Franco(Alessio Boni), a theatre actor who has just been offered a plum role in a TV medical drama. In her spare time, she visits her blind friend, Emilia(Stefania Rocca), who has a long-simmering crush on her. As Sabina is in the process of transferring her parents' remains while considering starting a family, she has a nightmare indicating that she may have been sexually abused as a child. She decides to visit her brother, Daniele(Luigi Lo Cascio), a professor at the University of Virginia, who she has not seen in several years, to get some answers...[/font] [font=Century Gothic][/font] [font=Century Gothic][/font] [font=Century Gothic]"Don't Tell" is a mildly interesting movie but there is not much drama beyond a couple of obvious revelations. It does not help that the subplots take center stage for a good deal of the film, either. And it is strange that the most memorable part of the film is the architecture.(Even Emilia's grotto is cool.)[/font] [font=Century Gothic][/font] [font=Century Gothic]The movie is about family, extended and otherwise, and how through miscommunication, incidents from the past are avoided until they become toxic. But secrets never stay buried forever, do they? So, looking back at one's formative years, there may be a certain amount of pain which leads to anxiety when contemplating a possible future of a family of one's own.[/font]
Don't Tell Quotes
There are no approved quotes yet for this movie.