Don't Torture a Duckling
(1972)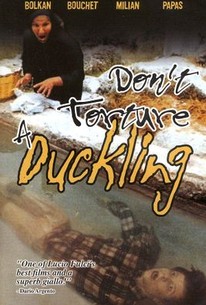 Movie Info
When several young boys are brutally murdered in a small southern Italian village, the superstitious locals react with ignorance and violence. All misfits are immediately suspected, such as big-city tart Barbara Bouchet, the local village idiot, and voodoo practitioner Florinda Bolkan, who is brutally murdered by the villagers in a startling and powerful scene. Cop Tomas Milian (Almost Human, Amistad) comes to investigate, and is rather curious about a young priest who censors the town's reading material to keep it free of corruption. The peculiar clergyman seems to envy the dead boys, who will never grow up to be corrupted. Milian soon becomes convinced that the priest wants to send the kids' souls to Heaven and feels guilt about desiring the boys sexually.
Critic Reviews for Don't Torture a Duckling
Audience Reviews for Don't Torture a Duckling
½
Good ol nasty Fulci aims his camera against superstition, be black magic or the catholic faith. The female cast adds a nice touch of (very sexual at times) tension. My only complaint is that Milian doesn't get much to do, aside from sporting an outrageous porn-star moustache.
Tsubaki Sanjuro
Super Reviewer
½
When fans of the giallo genre talk about their favorites, Lucio Fulci's Don't Torture a Duckling is mysteriously left out of the conversations. Not because it's a bad film, but because it tends to stick out as more than just a mere giallo. It's actually quite a thought-provoking film with a lot of style and substance to it. There are moments of light silliness that don't hold up very well, but overall, the film is probably the best that Fulci ever made - and he made some really great classic genre films. For a change, I found the conclusion to be satisfying. Usually the ending reveal doesn't match up to the rest of the film, but this one is pretty unique and quite interesting. I'd recommend this film to those interested in seeing something different for a change. Don't Torture a Duckling is definitely different and leaves you pondering.
Tim Salmons
Super Reviewer
An impressive murder/mystery movie from Lucio Fulci set in a Southern Italian village where a series of child murders have taken place. It's well plotted with enough twists to keep you guessing till the end having gone through a number of plausible suspects along the way. The film also features a couple of scenes of bloody violence which Fulci would later become renowned for, including a brutal chain-whipping scene which would later be replicated in 1980s The Beyond. Well worth seeking out for lovers of Giallo's and Fulci himself as it was his personal favourite of his movies.
Don't Torture a Duckling Quotes
There are no approved quotes yet for this movie.