Doom
(2005)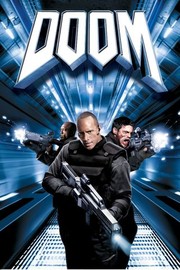 Doom Trailers & Photos
Movie Info
One of the most popular and influential video games ever makes its way to the big screen in this sci-fi thriller. A coalition of Earth's scientific and military interests have established a research colony called Olduvai on the planet Mars, but one day all communication from the outpost stops and no one can tell what has happened -- though the final messages suggest it's not good. Believing foul play may have overtaken Olduvai's crew, the Rapid Response Tactical Squad, a team of specially trained military personnel, are deployed to investigate the situation and, if necessary, eliminate the invaders. But Sarge (Dwayne Johnson, aka The Rock) and Reaper (Karl Urban), leaders of the RRTS team, soon discover the situation is far more grim than they could have imagined. An experiment on Olduvai has very literally opened a portal to Hades, and a variety of savage and demonic creatures have overtaken the colony. Now the RRTS must seal off Olduvai, close off any access to Earth, and exterminate the satanic beasts before they can kill again. Doom also stars Rosamund Pike (as Dr. Grimm), Dexter Fletcher, Ben Daniels, and Deobia Oparei. ~ Mark Deming, Rovi
more
Cast
News & Interviews for Doom
Critic Reviews for Doom
Audience Reviews for Doom
Based off the video game with the same name, Andrzej Bartkowiak's Doom is adapted simply and nicely.

There isn't much behind this 105 minute story. The back-story and character buildup is in limited quantities and there is a stretch in the early going that is tedious; however, the film manages to entertain.

The dark atmosphere, while providing an appropriate setting for its creature fest, is lacking in its scare tactics. The CG is a plus and the nicely crafted first-person sequence is absolutely note-worthy.

The Rock's performance is lacking, although it does improve by its finale. Karl Urban and Rosamund Pike are acceptable casting choices. Unfortunately, the rest of the cast is forgettable.

Doom is in no ways a perfect production, yet it comes together as a successful game to film adaptation. Three letters, BFG.
An entire film designed around getting to the climax, the POV action shots in the final minutes of the film ... replicating the video game that inspired this Aliens clone. Considering the source then, and the desired audience, well, it doesn't come off so badly.
Doom Quotes
Samantha Grimm: You could have spent your life looking down a microscope instead of a sniperscope.
John Grimm: You better watch you mouth, you flippy flappy piece of boom boom. I've known you since you were born and you were a snake baby back then. Snake babies can't drink mad dog 20 20. Nuh uh, sure can't ya fiddle stick munching thumb sitter.
John Grimm: It was his first mission!
Sarge: And it is not going to be my last. I need soldiers. I don't need anybody else but soldiers.
Discussion Forum
Discuss Doom on our Movie forum!
News & Features