Doomsday Book
(2012)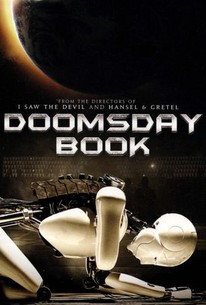 Movie Info
Korean filmmakers Yim Pil-sung (Hansel and Gretel) and Kim Jee-woon (A Tale of Two Sisters) team up for this mind-bending sci-fi triptych examining the impact of technology and disaster on contemporary society. In the first tale, one man's waste triggers a zombie uprising, leaving the frightened citizens of Korea fighting for their lives. The second story revolves around a computer-savvy repairman who finds his entire perception of consciousness turned on its head when a cyborg turns sentient. The trilogy winds to a close with the tale of a family who inadvertently brings about the apocalypse after misplacing a billiards ball, and placing an imprudent internet order.
Critic Reviews for Doomsday Book
Audience Reviews for Doomsday Book
½
I saw this at the 2013 Cleveland International Film Festival. It is like three movies for the price of one. Pil-Sung Yim directs the first and third parts. Jee-woon Kim directs the middle portion. First, In a Brave New World, a nerdy guy is set up on a date with a gorgeous girl and somehow sets in motion a zombie apocalypse. It is more disturbing in showing cattle slaughter than in showing humans degenerate into zombies. Yet, it is funnier overall especially because we are shown how similar, and at times ridiculous, South Korea's 24 hour news cycle is. Second, The Heavenly Creature is more appropriately meditative as a robot achieves enlightenment. This is a threat to some outsiders and inspiring to many of the monks. It reminded me of a play I read recently called R.U.R. and an episode of Star Trek: The Next Generation (season 2, episode 9 - The Measure of a Man). Can a robot be aware and sentient? Finally, Happy Birthday, has an absurd story of an 8 ball hurtling toward Earth and follows one family in particular, who tries to survive in an underground bunker. The little girl, who ages from like 5 to 20, may be responsible. Her goofy computer programmer uncle tries to help, but her parents are pretty clueless. Again it is funnier than I expected.
Byron Brubaker
Super Reviewer
½
This is a very innovative and unique sci-fi film. While it is an entertaining film from beginning to end, with the middle segment (the one with the robot reaching enlightenment) being the most serious, the film strives to make you think first and foremost. There is a lot of social commentary on the state of politics, while I'm sure it was to reflect South Korean politics, the political themes in this film are universal. During the first segment, the zombie outbreak, several politicians from multiple parties blame each other for the virus outbreak, among other things. I thought the middle segment, as already mentioned, was probably the most thought-provoking of all the segments. These are themes that are common in sci-fi, what if a robot achieved a state of nirvana, as is described in the film, how would people react to that. While they do look at this on a smaller scale, the story progression is still very interesting. I think this segment, with its heavy dialogue and lack of humor, will probably be looked at as the sole "boring" segment of the film, but I think it's anything but. As mentioned, it's a very intelligent and thought-provoking short. The last segment, with the asteroid, was probably the funniest of them all. It had the strongest acting of all the shorts too. With that said, if it wasn't for the comedy and the acting, this segment would've been the weakest of all the shorts by a country mile. But these strong aspects help to keep it at the same level as all the other shorts. I realize this isn't a very good review, but it's considerably harder to individually review three sci-fi shorts without making the review over 10,000 words. Review horror anthologies is considerably easier since most of them aren't designed to be thought-provoking. With that said, even with this incredibly shitty review, I thought this film was very good and intelligent. It's also a beautifully shot film, all three shorts are just gorgeous. So if you like both entertaining and intelligent sci-fi films, then this film is right up your highly.
Jesse Ortega
Super Reviewer
½
Doomsday Book is three short films all with interesting ideas and unique in their own version of the end of the world. Breaking boundaries and avoiding conventions of films focusing on the end of the world, Doomsday Book is the most pleasant surprise of 2012. First Chapter: "The New Generation" is told from the point of view of a boy who has become a zombie, this segment explores how humans lose control of planet Earth, becoming mere food for a different species. This is was the probably the weakest of the three short films as it doesn't the same level of enjoyment or thought provoking ideas. We've seen zombies taking over Earth and it's no different here with some interesting ideas that never fully take shape. It also cuts to new broadcast for a long duration before returning the actual plot which took will remind you you're watching a movie in a negative. This does have some charming charming characters and some good humor. Not the best way to start a film, but it is solid overall even if it doesn't reach the height it could have had. Second Chapter: "Heavenâ(TM)s Creation" is story about a robot who gains consciousness and the absurdity that follows. This is the best of the three short films as it is a great thought provoking experience. While our robot did learn Buddhism this short film makes us question if a conscious robot is more than just a machine. Just like the first short film it has news broadcast which are more effective here. It expands on it ideas intellectually over visuals. This short film is also the most relatable to us with technology constantly evolving it makes me wonder if the population would prefer humanoid mates over humans. The effects are good balancing the right amount of CGI with an actual robot model to never make just feel like a CGI robot. The ideas express in this short film are engaging are they are thought provoking. Third Chapter: "Happy Birthday" re-interprets the beautiful love story âThe Christmas Giftâ? by O Henry, this project confronts the basic instincts of a woman and her last chance to survive after witnessing the end of the world. The plot is most absurd doomsday scenario I ever seen and I loved it. How often do you see a film where the world is going to get hit by a giant meteor size eight-ball which a little girl order of the internet for twenty five cents. It's completely absurd in the most enjoyable way having great human and stands out because it is not a serious depiction of the end of the word. It's hilarious and the most fun you could watch seeing the world end in the most absurd and hilarious way possible. Doomsday Book is worth checking out as all three films are well made and has something for every kind of viewer. It's serious, thought provoking, funny, and most importantly a film that takes a different to the doomsday scenario.
Caesar Mendez
Super Reviewer
Doomsday Book Quotes
There are no approved quotes yet for this movie.