The Door in the Floor
(2004)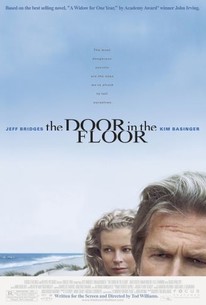 TOMATOMETER
AUDIENCE SCORE
Critic Consensus: Though uneven in tone, this is one of the better adaptations of John Irving's novels, with Jeff Bridges giving one of his best performances.
The Door in the Floor Photos
Movie Info
Set in the beach community of East Hampton, New York, one pivotal summer in the lives of famous children's books author Ted Cole and his beautiful wife Marion is chronicled. Their once-great marriage has been strained by tragedy. The Coles lovingly parent their surviving child, bright 4-year-old Ruth, who takes everything in stride as perhaps only a child can. But Marion's equation of love with loss, coupled with Ted's infidelities, points towards a much-needed change in the relationship. That may come in the form of Eddie O'Hare, the young man Ted hires to work as his summer assistant--and, Ted hopes, the catalyst to invigorate the Coles' bond of marriage. Eddie idolizes Ted, but Ted's erratic work habits soon leave Eddie to his own devices. Marion becomes an object of desire for Eddie, rekindling in her some surprising emotions as a mother and as a woman. To Eddie's surprise and delight, his yearning is potently reciprocated. As he becomes passionately entwined with the seemingly fragile yet increasingly bold Marion, Eddie comes to realize that, and similarly, Ted's surface fecklessness hides something deeper within. As the summer draws to a close, Marion and Ted must make difficult decisions about the future of their family.
People Who Like this movie also like
News & Interviews for The Door in the Floor
Critic Reviews for The Door in the Floor
Audience Reviews for The Door in the Floor
What an injustice that "The Door in the Floor" has been seen by so few. It has its flaws, but it also has magnificence. It's a must-see DVD for anyone who cares about serious, complex drama and beautiful filmmaking. What a travesty that director Tod Williams (not to be confused with Todd Field of "In the Bedroom") has not been able to get a serious film made since 2004 -- almost a decade! It pisses me off how many talented filmmakers in America die on the vine. Anyone remember Laurie Collyer, who made the exquisite "Sherrybaby" in 2006? Or Karen Moncrieff, whose powerful "The Dead Girl" also came out that year? They're probably waiting tables, no one willing to bankroll their films. In "The Door in the Floor," which is based on the John Irving novel "A Widow for One Year," Jeff Bridges plays a famous writer living in the Hamptons. Kim Basinger plays his wife. Four-year-old Elle Fanning plays their daughter. Little-known actor Jon Foster plays a prep-school intern hired to be Bridges' assistant for the summer. It's amazing how much we learn about this troubled family in two hours. Williams' filmmaking is so good that a lot of ground is covered in such a short time. Not a single shot is wasted. There is so much story-telling in every scene. I've complained a lot in the past few years about filmmakers who don't know much about stories. Tod Williams knows how to tell a story. That of course means that audiences aren't interested in his work and producers don't want to work with him. In a word: Develop a talent for story-telling, lose all hope of getting work as a filmmaker in America.
William Dunmyer
Super Reviewer
A philandering childrens book writer and his depressive wife invite a young writer into their home as they're still coping with the traumatic deaths of their sons. Based on a part of a John Irving novel, this film features a truly exceptional performance by Jeff Bridges. During the film, I thought about how this character was perfect practice for his role in Crazy Heart. And the film's mood follows Bridges's performance - earthy and sullen yet always forcing a pained grin. Under the strong direction of Tod Williams, there are a few moments when I wondered how or if the same effect could be accomplished in Irving's prose, which I have always liked, but I never thought it deserved the accolades it received. For example, toward the end there is a silent goodbye that is almost impossible to render in words, and the images of the dead sons deftly render the loss this family experienced. However, not everything about this film shines. Numb and dead with grief, Kim Basinger's Marion isn't a very compelling character, and until the third act, Jon Foster's Eddie seems like he's on his way to another movie. Also, the film's climax is essentially expository. Though it's delivered effectively, structuring the film so that this revelation comes earlier would have made the film much stronger. Overall, Jeff Bridges and some truly effective moments rendering the depressing realities of this family's life make The Door in the Floor a fine drama.
Jim Hunter
Super Reviewer
Leigh Ryan
Super Reviewer
The Door in the Floor Quotes
There are no approved quotes yet for this movie.