Dopamine
(2003)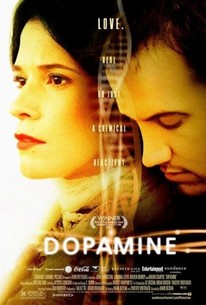 Movie Info
Mark Decena makes his directorial debut with the romantic comedy Dopamine. In San Francisco during the economic heyday of computer technology, Rand (John Livingston) works as a software designer. He and his co-workers, Winston (Bruno Campos) and Johnson (Reuben Grundy), have created a toy called Koy Koy, an A.I. cyber-pet that can respond to its owner's voice. Rand's love life hasn't been very productive, especially because his father (William Windom) has been repeatedly telling him that love is just a series of chemical reactions ever since his mother was diagnosed with Alzheimer's disease. One day, Rand goes out to the bar after work and meets preschool teacher Sarah (Sabrina Lloyd), whom he feels strongly attracted to. When his company test markets his cyber-pet to little kids, Rand meets Sarah again and they are instantly connected. Despite their differing opinions on the chemical nature of love, Rand and Sarah begin a romance that puts their theories to the test. The film also stars Kathleen Antonia and Nicole Wilder. Shot on digital video, Dopamine premiered at the 2003 Sundance Film Festival.
Rating:
G (for language, sexuality and brief drug use)
Genre:
, , ,
Directed By:
Written By:
In Theaters:
On DVD:
Runtime:
Studio:
Critic Reviews for Dopamine
Audience Reviews for Dopamine
½
"Dopamine" is a very slow moving movie. I bought it at "Hollywood Video" for $1.06 and I think I paid too much. A large part of the movie revolves around a little yellow bird named Koy Koy. Koy Koy is a character in a computer program. The graphics used to create the bird are very similar to the graphics in "Avatar". OOPS. I didn't mean to say "Avatar"; I meant "Pong". After I watched the movie, I put it in my box for Goodwill donations. This movie lasts 85 minutes. There is one positive thing I can say about this movie and I will add it to this review as soon as I think of something.
Monte Mendoza
An OK movie that questions if there is a spiritual side to love or is it just a chemical, behavioral or environmental reaction.
Jake Conrad
An interesting display of awkward love and boys with stupid rationalizations for emotions. I think he gets it in the end though.
Jennifer Hayden
Dopamine Quotes
There are no approved quotes yet for this movie.