Dora-Heita (Alley Cat) (Playboy)
(2001)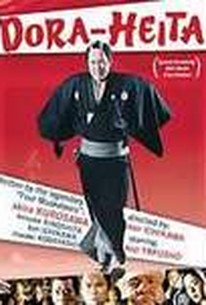 AUDIENCE SCORE
Critic Consensus: No consensus yet.
Dora-Heita (Alley Cat) (Playboy) Photos
Movie Info
As the Japanese studios were declining in 1969, four legendary directors from that country's "golden age" of cinema -- Kon Ichikawa, Masaki Kobayashi, Keisuke Kinoshita, and of course Akira Kurosawa -- banded together to start their own production company. The financial and critical failure of the studio's first feature, Kurosawa's Dodes'ka-Den (1970), scrubbed all subsequent projects. One of the shelved works was this film, which was adapted by the quartet from Shugoro Yamamoto's "Diary of Town Magistrate" and was originally going to be directed by all four masters. With the passing of Kurosawa and Kinoshita in 1998, directing duties of this almost forgotten script fell to the group's sole survivor: 85-year-old Ichikawa. The film centers on Koheita Mochizuki (played by charismatic leading man Koji Yakusho), a samurai selected by the regional lord to be the magistrate of the particularly lawless district of Horisoto, a place where three such officers disappeared. This appointment arouses more than a little curiosity from the locals; Mochizuki's reputation for liquor and general licentiousness has earned him the nickname Dora-Heita, or "alley cat" (meaning "playboy"). In fact, Mochizuki has carefully cultivated his debauched persona, as he quietly tells his friend Senba (Ryudo Uzaki), who works as district administrator. He exhorts his pal to keep the rumors circulating. When the venerable district council -- who is aghast at Mochizuki's slatternly appearance -- almost votes to remove him, Dora-Heita reveals the lord's signed letter of endorsement giving him absolute authority. His first task is to clean out three powerful gangs who control Horisoto, keeping it awash in prostitution, extortion, gambling, and murder. Though samurais are forbidden to sullen themselves with such riff-raff, he boldly ventures into the prohibited brothel quarters and plays up his libertine persona in order to suss out the real criminals. In the process, he profoundly offends a band of right-thinking young samurais who soon plot to assassinate the heretical Dora-Heita. With almost everyone in the area out to get him, Mochizuki's life is further complicated by the appearance of geisha and former mistress Kosei (Yuko Asano), who demands that he take her back. Told with a sly sense of humor that was common to all four directors, this film is directed with a muscular dynamism that recalls the best of the samurai movies of old, such as Yojimbo (1961) and Harakiri (1963). Dora-Heita was screened at the 2000 Berlin Film Festival. ~ Jonathan Crow, Rovi
Audience Reviews for Dora-Heita (Alley Cat) (Playboy)
definitely one of the more american influenced samurai films, feeling like a blend of classic samurai drama and beverly hills cop, this film intrigue's from the first moment and never lets up. solid performances, great screen writing, and a wonderful story make this one of my favorite samurai films. the music was my only real complaint. directed by the legendary kon ichikawa and written by four of the greatest directors in history, including my favorite director akira kurosawa, this seldom sighted samurai film is a classic.
Excellent Old School Asian Flix. Watch and be Intenisfied.
Bruce Bruce
Super Reviewer
Dora-Heita (Alley Cat) (Playboy) Quotes
There are no approved quotes yet for this movie.