Dorfman in Love
(2013)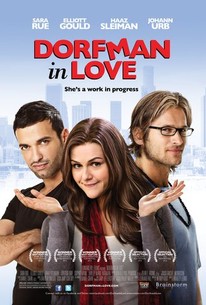 Movie Info
Dorfman In Love tells the story of a young single suburbanite unknowingly trapped in her role as caretaker of her unappreciative family, who desperately needs to get her own life. When she volunteers to cat sit at her unrequited love's downtown L.A loft, her world, as she knows it, changes forever. In seven days, she meets another man who appreciates her and she not only transforms the mess of a loft but also transforms the mess of herself. Her journey of self-discovery leads her to find her true love. (C) Freestyle
Rating:
PG-13 (for sexual content, language and brief drug use)
Genre:
,
Directed By:
Written By:
In Theaters:
On DVD:
Box Office:
$13,737.00
Runtime:
Studio:
Critic Reviews for Dorfman in Love
Audience Reviews for Dorfman in Love
½
★★1/2 (out of four) Though it is surely a by-the-book romantic comedy, it is also a bit wrongly underrated. There are some wonderful moments that make me think about what the film could have been. Those moments are fleeting, however, and much of the film disappears into cliches. Deb Dorfman (Sara Rue) is the only responsible member of the Dorfman family. She helps console her father (Elliott Gould) since the passing of his wife and her mother, and she works for her controling brother. When the man she has a crush on asks her to housesit for him at his hep new downtown L.A. apartment, she jumps at the chance. Why he is away Deb plans out how she will profess her love to him. But while he is gone she meets the sexy artistic neighbor (Haaz Sleiman) and he introduces her the revitaized downtown. The actors are all very likeable and they help greatly in lifting the routine subject matter. I just wish the film didn't play it so safe. [IMG]http://img.photobucket.com/albums/v48/Zeppo1/DormaninLove_zps96ac14ef.jpg[/IMG]
Steve Smith
This film is surprisingly better than I was expecting, thanks to its talented cast, highlighted by Sara Rue and Elliott Gould, who delivers the film's funniest lines, but it's still not that good of a movie. It certainly gets by on Sara Rue's charismatic and immensely likable performance, but the script is predictable and overtly cutesy. And despite the fact that it was written by a female, to be fair the script could've undergone changes that weren't up to the woman who wrote it, there's this whole sexist tone that underscores the events of the film. So, if a woman doesn't have kids or is married by a certain age, then it should be hell for her? Is a woman's worth, when she reaches a certain age, really measured by whether or not she's been married and has kids yet? The movie, for the most part, tries to be really cute and inoffensive, except when you really think about the story. Other than that, the film, while generic and with a script ripped right out of a sitcom, is certainly pleasant and watchable thanks to Sara Rue. I really do think her talents are wasted in this film, because she has a very charming and vibrant personality, so you immediately take to her in this movie because of that, but it's a shame the script and the generic story lets her down. There's also another part of the movie that I didn't like and that was the climax. Basically, Deborah has to choose between two men, naturally, as her life would be meaningless without a man in it, the movie makes it clear to you, it's not me being an asshole. Basically there's Jay and there's Cookie. One man she's had a crush on her entire life, but he always uses her for his own benefits, if he needs a favor, that kind of stuff. He never listens to her problems or helps her out with anything. The other actually treats her with respect, actually listens to her problems, and actually helps her out when she needs him. So who does she pick? Naturally, at first, she picks the asshole. When she's there, she finally realizes that this guy isn't really interested in her, and then she goes for the guy that actually treats her like a real human being. This was certainly odd, would someone over the age of 14, really be that blinded by "love", that you wouldn't see how much of a douchebag one of your romantic interests is? It was certainly contradictory to everything the movie was trying to be at that point. Why wouldn't she go straight to the person who actually treated her decently? It was odd, and not a particularly effective way to end a rom-com. 'Hey, I chose you because my first choice didn't really pan out'. That's all the ending boils down to. Of course, there's the really cheesy moment when Deborah finally does choose Cookie, so perhaps that's the reason the climax went as it did. I digress, this film has some pretty lame scripting, and it wasn't really funny, though it did have some really funny lines, but this is a sitcom script at best that is elevated by the cast, in particular, Sara Rue, who does a good job here with what she is given.
Jesse Ortega
Super Reviewer
½
Brad Leong's "quirky" romantic comedy retreads ground that is already so well worn, everyone just slides right through.
Lee Mayo
Dorfman in Love Quotes
There are no approved quotes yet for this movie.