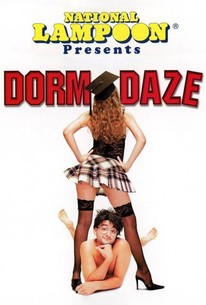 National Lampoon's Dorm Daze
2003, Comedy, 1h 37m
7 Reviews
5,000+ Ratings
Rate And Review
National Lampoon's Dorm Daze Photos
Movie Info
As Christmas break approaches, the dormitories at Billingsley University are restless with sex-crazed students. Although eager to relinquish his burdensome virginity, Booker (Chris Owen) has thus far failed in this endeavor. His charitable older brother, Styles (Patrick Renna), does the sensible thing and hires a prostitute (Boti Bliss) to usher Booker into the realm of manhood. Unfortunately, some misunderstandings complicate this procedure, prompting sophomoric shenanigans.
News & Interviews for National Lampoon's Dorm Daze
Audience Reviews for National Lampoon's Dorm Daze
When you have a movie where everything that can go wrong, will go wrong, the movie just becomes wrong. Never before have I seen a plot line so tangled within itself and so desperately trying to tie all of the stories together in a humorous way that it completely destroys the film. I have no idea how point A got to point B and I spent the entire time thinking that something was being resolved so I can finally turn off this god forsaken movie and go to sleep, then they completely twist the event to go on for another 15 minutes over and over again. Never before has a movie made me more frustrated than this one. I am forced to give them a half star since zero isn't an option.

National Lampoon's Dorm Daze had some familure sitcom actors and surprisenly they all played pretty good roles. The storyline was creative but far out. In a world where anything can happen, because reality is tossed out the window there is some good laughs, but lot's of wasted potential. I feel the movie could of been a lot better in some ways, but I've seen worse.
See Details