Double Down
(2007)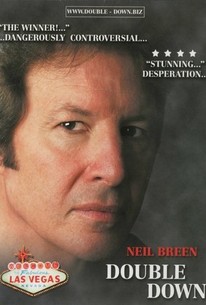 AUDIENCE SCORE
Critic Consensus: No consensus yet.
Movie Info
Distraught by the murder of his girlfriend, tech spy genius Aaron Brand (Neil Breen, who also wrote and directed) is hired by an evil foreign government to take down the Las Vegas strip with an act of bioterrorism. As he toils away on his perilous mission, the mysterious loner communicates with his lost love by using a mystical power to reach out to her in his dreams. The haunting low-budget thriller also stars Laura Hale and Mike Brady.
Rating:
NR
Genre:
,
Directed By:
In Theaters:
On DVD:
Critic Reviews for Double Down
There are no critic reviews yet for Double Down. Keep checking Rotten Tomatoes for updates!
Audience Reviews for Double Down
This movie is probably the most poorly made movie I have ever seen. The acting is horrendous, the script is bad, the plot if there even is one (all signs point to no) is completely incomprehensible. There were several points in the movie where there was something perhaps resembling a plot and then due to the poor editing that "plot" completely vanishes and the movie transitions into something completely different. I use the word plot in the loosest meaning of the word. How loose you might ask? So loose that it could literally mean anything. The characters make absolutely no sense with the main character played by Neil Breen being a hacker, biochemist, former soldier, super spy, terrorist, genius, assassin who plans on starting a terrorist attack on Las Vegas by putting anthrax on a random persons elbow. For unknown reasons he then needs to stop this terrorist attack he started, but he is so good at doing whatever it is that he does that nobody can stop him not even himself because he is that good. The few other characters there are seem to randomly appear and disappear in between the stock footage of Las Vegas/Deserts. I also hesitate to call this a movie because there is likely an equal amount of stock footage and actual footage in this. Perhaps due to the low budget or the lack of film making ability this movie is terrible. That being said it is one of the most funny and entertaining movies I have ever seen. I was unable to stop watching this movie much in the same way people slow down to see the aftermath of a car accident. The incomprehensible nature of the film kept me sitting in my seat because I literally had no idea what was going to happen, whether that be magic cancer rocks from old men in the desert or hacking the planet from broken laptops in a car. This movie is the epitome of a funny bad movie only because there is no other movie that is anywhere near as bad as this.
Grant W
It's hard to rate something like Double Down. Technically, this is quite possibly the most incompetently written and directed film ever created, yet is simultaneously possibly one of the most entertaining films ever created. The film is completely incomprehensible, with so many plot points tied together that make absolutely no sense whatsoever, and the amount of stock footage used in this movie is quite literally equal to the amount of original footage. The acting is horrible, the music is horrible, the screenplay (if there even is one) is horrible, the camerawork is horrible, the editing is horrible... and yet, this film is absolutely hilarious. Intentionally so? Of course not, but the muddled nature of the film is hysteria-inducing, and there's countless moments of insane unintentional humor. In no other film do you get Neil Breen playing the ultimate assassin/soldier/computer hacker/terrorist fighting terrorism with terrorist attacks, frequent visions of his dead wife who constantly changes from being a spectral form, a corpse(?), and a skeleton, an old man in the desert gifting Neil Breen with a cancer-curing rock, and Neil Breen casually rubbing anthrax on a random pedestrian's elbow a catalyst for a terrorist attack(?), and Neil Breen hijacking a Ferrari using only a cell phone. As a film, it's abysmal, but as an experience, it's euphoric.
Andrew Milito
i should give this less than a zero rating... but it is a one of the kind shitsterpiece. you cant move yourself away from the majesty that is Neil Breen. its one of the mighty clusterfucks of the world of 21st century cinema
Jack Gattanella
Discussion Forum
Discuss Double Down on our Movie forum!
News & Features