Double Dragon
(1994)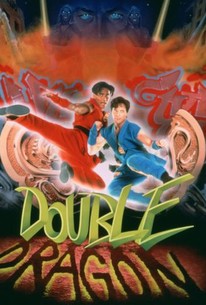 Movie Info
This sci-fi action film, aimed at a younger audience, is based upon a popular video game. It is set in a futuristic Los Angeles after the "big one." Most of the city, including Hollywood is underwater. The city is now called "New Angeles." Jimmy and Billy Lee are teenaged brothers. Their mentor carries one half of a magical dragon amulet. The evil Koga Shuko carries the other half, which he stole. If the dragon were put together the owner would have tremendous powers. Koga is after the boys and the charm. With his evil gang and he chases them through city until the climactic showdown.
News & Interviews for Double Dragon
Critic Reviews for Double Dragon
Audience Reviews for Double Dragon
Set in the (then) crumbling future of 2007, why do all these poor adaptations get set in post apocalyptic futures where gangs roam the streets in outfits you wore under the age of 15?. Again your typical 90's trash that went straight to the video shop and didn't even pass go, its called 'Double Dragon' but bares no resemblance to the videogame what so ever accept for character names and the fact the brothers 'fight' against various punks. The film is pretty much like the first 'TMNT' film albeit a very bad version, its completely aimed at kids so everything is watered down to a babyish level which in turn comes off as hilarious. Like other kids action films of the time its all very colourful and quite imaginative but its so utterly pointless, action sequences are clearly added simply to make the film more 'exciting' when really you wouldn't miss them if they weren't there, point...less. All characters are totally cliched and all look ridiculous in their costumes/face paint, your typical post apocalyptic gangs of punks dressed in horribly retro 80/90's fashions. Robert Patrick must have suspected this was gonna be a big blockbuster otherwise I'm sure he wouldn't have signed on for this, mind you the casting of B-movie action star regular Dacascos should of given him a hint. This just feels completely not needed, no point in creating it in the slightest. Its like they have a videogame that is/was popular so they just had to throw out a film of it no matter how it turned out, just to capitalise on the franchise, they just couldn't help themselves, and what has it achieved? absolutely zip.
Phil Hubbs
Super Reviewer
½
I mean, if you think Street Fighter was bad, at least it had Raul Julia's greatest performance as the villain and some great action sequences, but after learning what the Nostalgia Critic himself has taught me about this film, I now agree with him. But before we can go to the negatives, I have three praises for this film and those are the decent special effects, the solid costume designs, and the well-choreographed action sequences. But those three praises didn't save this god-awful film as everything went extremely wrong. The story was too predictable and very simple for a video game adaptation, the dialogue was unbelievably cheesy, the characters were cardboard cutouts, and the writing/editing was choppy. For example, near the end of the film, where Billy and Jimmy are about to battle each other, it showed a Double Dragon video game, which raises one question: How can a video game adaptation have a video game in which it was based on? Looks like the director himself didn't had time to explain and just focused on the action. Why can't Hollywood ever make a good video game adaptation? Why do they always have to alter the story lines that made the video games so popular? It looks like those two questions were never answered until later in the 2000s that some video game adaptations have finally started to become good. I wish there was a remake of this, but since it bombed at the box office, I guess Hollywood's gonna move on now.
Gavin Cresswell
Super Reviewer
This is very poor TV Movie with a poor acting.
Double Dragon Quotes
There are no approved quotes yet for this movie.