Douches froides (Cold Showers)
(2006)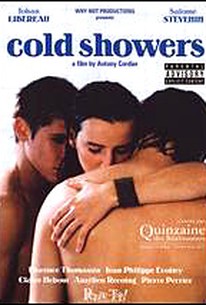 AUDIENCE SCORE
Critic Consensus: No consensus yet.
Movie Info
A trio of French teens experiences a love that will change their lives forever in this erotic coming-of-age tale from director Anthony Cordier. Mickael's (Johan Libereau) obsession with Judo often helps him to focus his frustrations in life, but when he's alone with longtime girlfriend, Vanessa (Salomée Stevenin), his guard fades, leaving a loving and easygoing boyfriend where the aggressive martial artist used to be. Clément (Pierre Perrier) is the new kid in town with a similar obsession with Judo and a pair of nouveau riche parents who stand in stark contrast to Mickael's working class mother and father. When the pair bond over an upcoming tournament and Clément helps Mickael to lose some weight for the meet, Vanessa is hesitant to accept the outspoken newcomer. As the bond between Mickael and Clément strengthens, Vanessa's increasingly complex role in the pair's friendship leads the trio through a series of sacrifices and emotional revelations that will result in a profoundly affecting sexual encounter for all three conflicted teens. ~ Jason Buchanan, Rovi
Critic Reviews for Douches froides (Cold Showers)
All Critics (1) | Fresh (1) | Rotten (0) | DVD (1)
With a loving eye for its naturally acted adolescent characters and with excellent cinematography, Douches froides finally runs too long to be engaging throughout.

Audience Reviews for Douches froides (Cold Showers)
½
Highly complex; a true representation of real life and how quickly roles can be reversed. The characters are rich, even the minor ones. And there is an impending sense of foreboding throughout that keeps the story taut.
Jeff B
½
A highly sensual, erotic and emotionally charged movie that is somewhat let down by a weak ending. The tension leading up to the inevitable 'climax' is palpable, while the scene itself is well handled and highly justifiable. The actors do a great job, never over acting, keeping things grounded in a sense of reality. The problem comes with the ending, and its lack of explanation of the development. Yes ok its French cinema, and one can expect to be less convenitionally spoon fed than with Hollywood, but still while we understand Mickael's detachment and the isolation he ultimately feels - it seems underdeveloped and almost out of the blue from what had gone on before. Ultimately though, the films successes are greater than its failures, and its worth seeking out this quiet, subtle portrayal of teenage relationships.
Rhys French
½
[font=Century Gothic]In "Cold Showers," despite living in a chaotic household with an alcoholic father(Jean-Philippe Ecoffey) and a mother(Florence Thomassin) who rations out the electricity, Mickael(Johan Libereau) is doing well in high school where he is dating Vanessa(Salome Stevenin) and is the captain of the judo team. He is also asked by Louis Steiner(Aurelien Recoing), a local businessman, to train with his son Clement(Pierre Perrier). Better yet, after a win, the team moves onto the European Championship and Steiner offers to sponsor the team but one of the wrestlers is injured in a bit of horseplay. To replace him, Mickael vounteers to lose the 8 kilograms necessary to get down to his weight...[/font] [font=Century Gothic]"Cold Showers" is a sensitive and thoughtful, yet provocative movie about teen sexuality.(Since this is the subject, I will not object to so many scenes being set in the locker rooms.) Even though these characters have the physical maturity to engage in sex, they do not have the emotional maturity to cope with the repercussions. Also on the physical side, Mickael is confident that he can lose enough weight in time without anything going wrong.[/font]
Douches froides (Cold Showers) Quotes
There are no approved quotes yet for this movie.
Discussion Forum
Discuss Douches froides (Cold Showers) on our Movie forum!