The Dove
(1974)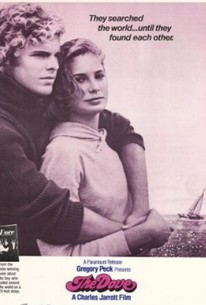 AUDIENCE SCORE
Critic Consensus: No consensus yet.
Movie Info
Gregory Peck produced this coming-of-age adventure, richly photographed by Sven Nykvist. Based on a true story, the film documents the five-year journey of Robin Lee Graham (Joseph Bottoms), a 16-year-old boy who sets out in a 23-foot sloop, determined to be the youngest person to sail around the world. As he travels around the globe, he undergoes a string of new experiences while growing from a child to an adult. Along the way, he falls in love with an inspiring woman, Patti Ratteree (Deborah Raffin), who follows him throughout his journeys, meeting him at ports of call in Fiji, Australia, South Africa, Panama, and the Galapagos Islands.
Audience Reviews for The Dove
½
:rotten: :rotten: [b][color=yellowgreen]1/2[/color][/b] (out of four) [color=yellowgreen]Beautiful cinematography highlights this rather traditional love story that is as shallow as the ocean is deep.[/color] [color=#9acd32][/color] [color=#9acd32]Joseph Bottoms stars as the real-life teenager who sails around the world in a 23-foot sloop. Alomng the way he picks up and falls for a girl who then travels with him.[/color] [img]http://i12.photobucket.com/albums/a219/hstngs2000/Dove1.jpg[/img] [color=#9acd32]The sights are amazing and the performances, especially by Bottoms are very good. I just wished they we are able to get deeper into the minds of the characters.[/color]
Steve Smith
The Dove Quotes
There are no approved quotes yet for this movie.
Discussion Forum
Discuss The Dove on our Movie forum!