Down Came a Blackbird
(1995)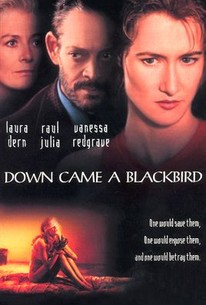 AUDIENCE SCORE
Critic Consensus: No consensus yet.
Down Came a Blackbird Photos
Movie Info
In this psychological drama, a woman tries to get on with her life after she is captured and tortured in a nameless South American country. It begins as US journalist Helen McNulty and her photographer/lover Jan travel to the country to find a rebel leader. Instead they are captured during a protest demonstration, separated, and tortured. She survives the ordeal and ends up back in Portland, Oregon, still grieving for Jan a year later. Though she has buried most of the terrifying experience and is determined to live a normal life, she finds herself forced to face the experience when she attends a symposium for survivors of political torture and decides to write a story on Anna Lenke, the keynote speaker and Holocaust survivor. Lenke runs a center for survivors and while there, Helen finds Anna treating her like a therapy patient, rather than a reporter. Conflict ensues. More conflict erupts when a mysterious, Latin professor, Tomas Ramirez arrives at the clinic.
Rating:
R
Genre:
Directed By:
Written By:
On DVD:
Runtime:
Critic Reviews for Down Came a Blackbird
There are no critic reviews yet for Down Came a Blackbird. Keep checking Rotten Tomatoes for updates!
Audience Reviews for Down Came a Blackbird
I stumbled along this movie on Flix. I wasn't going to watch it but I saw laura dern in that cute outfit from the 90s, and vanessa redgrave looking wise and charming as usual, and i just had to have a peek. In return I was assaulted with grief and sadness for these characters and the thoughts of real life experiences obtained by millions having to do with the same subject matter. I wasn't going looking for a depressing, torture filled movie, but no one ever goes looking for something like that. If they do, they are masochistic. Movies like Saw and Hostle have taken real life situations of torture and made them into crazy amusement for others. This is not amusing, it is sick and sad. This movie turned those experiences into surviver stories, stories of strength and the overcoming power of love. Not love, as in sex. Love, as in, the love any human can feel for another. The love it takes to raise someone's spirits and have yours raised in return. The power in human relation and understanding. It was about a clinic of political torture survivors and how their different experiences have damaged them and left them handicapped. All the characters were trying to overcome this sadness, this road block in their normally technicolor lives. In the end they become stronger because of their communication with one another. It was heartstirring and emotional, without being preachy or falling into stereotypes. I felt like i was in the clinic with these survivors and I wanted so much to end the torture for them and all of those around the world still experiencing these acts. The fact that this exists is intollerable. The fact that men torture women, and kill who they please, is overly repulsive to me and it should be to everyone. Our world is wrong in a way that still isn't fixed. For that I am saddened and millions are broken and hurting. This movie reminds you of this, because you should be reminded. Never turn a blind eye to another innocent person's pain.
kd bear
Down Came a Blackbird Quotes
There are no approved quotes yet for this movie.