Down in the Delta
(1998)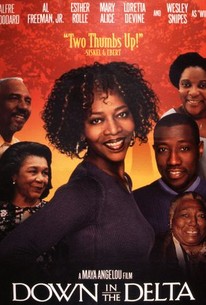 Movie Info
Poet Maya Angelou made her feature directorial debut with this African-American family drama, shown theatrically but originally produced for the Showtime cable network. Unemployed single mother Loretta (Alfre Woodward) lives with her mother, Rosa Lynn (Mary Alice), in a Chicago apartment. Drugs and alcohol lead Loretta to neglect her autistic daughter, Tracy (Kulani Hassen). Her teen son Thomas (Mpho Koaho) brings in money by photographing tourists. Rosa Lynn pawns a family heirloom in order to send Loretta and the kids off to their Mississippi Delta hometown where Loretta's Uncle Earl (Al Freeman Jr.) runs his diner. Earl lives in a dry county, so Loretta is reluctant. However, she has no choice after Rosa Lynn threatens to contact child-welfare authorities if she doesn't go. Earl takes in the trio even though he already has enough problems with Annie (Esther Rolle), an Alzheimer's victim under the supervision of caregiver Zenia (Loretta Devine). Toronto locations substitute for Mississippi. Shown at the 1998 Toronto Film Festival.
Rating:
PG-13
Genre:
Directed By:
Written By:
In Theaters:
On DVD:
Runtime:
Studio:
Miramax
News & Interviews for Down in the Delta
Critic Reviews for Down in the Delta
Audience Reviews for Down in the Delta
½
I've seen this once back when this first came out so I hardly remember this, but I do remember that Alfre Woodard did a great job in this and very interesting Maya Angelou directed this.
Tino Raiford
½
This is one of the most impressive stories I've ever seen brought to the screen. The cast is top notch and the way things are revealed! AAH! And impressive piece of work right here!
Lorenzo Vassquez
Sometimes, I watch a movie, sit down to write about it, and realize I have nothing to say on the subject. For example, I watched about five Studio Ghibli releases in rapid succession, and by [i]Whisper of the Heart[/i], I'd run out of different things to say. I enjoyed the movie, but I didn't think I could tell you why for five paragraphs. (And worse if I went by word count, I'm sure.) I'm not sure I can fill five paragraphs with relevant information about this one, either--I will say that I think it was probably two very mild thumbs up that it received from our old pals, Ebert & Roeper. They'll often agree even when neither of them feels very strongly about a given film, and I believe this was probably one of them; it's pretty uninspired, frankly, and I see very little other than cast that would make me recommend this much. There's this family living in Chicago. The mom's a drug addict/drunk; the grandmother's trying to get the kids into a better life. The boy is trying himself; the girl is autistic. And the solution to all these problems is to go South, to the old family home. There's also a subplot involving, I kid you not, a candlabra called Nathan. Oh, I get that it's a symbol of the family's pride in their heritage, but it is still, in fact, a candlabra called Nathan. Being in the Delta saves the family. The mom, Loretta (Alfre Woodard), has no withdrawal symptoms, and merely working in her Uncle Earl's (Al Freeman, Jr.'s) chicken restaurant saves her from being an uneducated woman who is also a bad, bad parent. Her son, Thomas (Mpho Koaho), is actually a pretty good kid, but he really . . . doesn't change much at all, actually, despite being the character you connect with most in the Chicago sequences. He learns to trust his mother, but that's largely because his mother becomes someone he can reasonably trust. That's the thing--I don't believe in blindly trusting anybody, family or not. Your family can screw you over just as much as anyone can; I can cite statistics. So I think it's okay when Thomas hides money in his little sister's toy so that his mom won't find it--because he knows it's the thing his mom won't sell for intoxicants money. Have at, kid; you earned the money, and your mom would steal it just as she stole your walkman. We're supposed to be shocked, I think, but I was just surprised that someone in a heartwarming movie was actually being sensible. I'm tired of having my heart warmed by movies like this. The woman we see at the beginning deserves what she can get; she fills her daughter's bottle with a mix of milk and Coke for reasons I still don't get. (To show just how bad a parent she is?) I don't understand why "move back to the Delta" was never part of the grandmother's plan to make things better. Then again, I don't understand how the Delta has such healing powers in the first place. And that's why I don't usually watch this sort of movie.
Edith Nelson
Down in the Delta Quotes
There are no approved quotes yet for this movie.
Discussion Forum
Discuss Down in the Delta on our Movie forum!