Downhill (When Boys Leave Home)
(1927)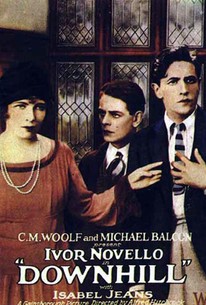 Downhill (When Boys Leave Home) Photos
Movie Info
The black sheep of a prosperous family's life begins its downward spiral when he is expelled from school after shielding a friend from punishment. Following several desultory adventures, Novello weds faithless actress Isabel Jeans, who divests him of what little money he has and runs off with another man. Only when he is at his lowest is Novello forgiven by his family.
Critic Reviews for Downhill (When Boys Leave Home)
Audience Reviews for Downhill (When Boys Leave Home)
Two young college boys get caught up in a scandal when a young girl gets pregnant...she accuses one of being the father, and is expelled...while the real father of the child remains in school as a captain of the rugby team and keeping his scholarship and the pride of his father. If I were the guy accused I wouldn't have kept silent to let some other loser keep his daddy's approval. Then it sends the accused's life into a spiral of losing his father's approval, money run dry by a bad marriage, and becoming a gigolo. It is a solid drama, certainly better than Hitchcock's "The Ring", but not that much better. It definitely has a better style and is well told...I'll give it that much.
Ken Scheck
The story for "Downhill" was good, but it was also a little hard to follow at times. Another problem is that the story isn't very engaging until the final act. If you're interested in seeing Hitchcock's earlier movies, watch it. Otherwise, you won't be missing much.
Chris McGee
Downhill (When Boys Leave Home) Quotes
There are no approved quotes yet for this movie.
Discussion Forum
Discuss Downhill (When Boys Leave Home) on our Movie forum!