Downloading Nancy
(2008)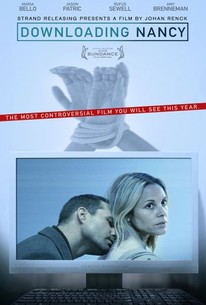 Movie Info
A self-destructive housewife takes what may be her final step into the abyss in this independent psychological drama. Nancy Stockwell (Maria Bello) is a woman edging into her forties who has fallen into a deep and prolonged state of depression, finding her only solace in self-inflicted pain. Nancy has grown weary of her relationship with her husband, Albert (Rufus Sewell), and one day he comes home from work to find a note in which Nancy says she's decided to visit an old friend for a few days. When Nancy doesn't call after several days, Albert begins to worry that something is wrong, and he soon learns that Nancy hasn't told him the truth. Nancy has struck up an on-line relationship with Louis Farley (Jason Patric), who has a passion for violent sex, and she has decided to meet with him in person, but she has more in mind than just a fling -- she believes that Louis is the man who can end her misery by killing her. Also featuring Amy Brenneman as Nancy's analyst, Downloading Nancy was the first English-language feature from Swedish filmmaker Johan Renck.
People Who Like this movie also like
News & Interviews for Downloading Nancy
Critic Reviews for Downloading Nancy
Audience Reviews for Downloading Nancy
Most films that explore sadomasochism do so in ways that can still be appealing and alluring to an audience comprised of people with relatively normal, well-adjusted ideas about sex and sexuality, but this is a notable exception. The sadomasochistic scenes in Downloading Nancy are fucking brutal, cringe-worthy, and unrelenting, and Bello and Patric are nakedly committed to "going there," living the realities of their characters. At its core, there is indeed little to this story, and we should be given some reason to hope for a different ending than what's inevitable. This lack of any true suspense is the film's major flaw. But by the same token, I think we go to independent movies to see a purposeful rejection of Hollywood's common narratives. Overall, this film is dark, disturbing, depressing, nihilistic, and courageous - the perfect date movie.
Jim Hunter
Super Reviewer
½
A tough sit - very good performance from Maria Bello - but man is this dreary, slow, dark stuff. After a while, you just want to scream at the screen, "Just die already!". Not without its merits, but I can't imagine someone wanting to sit through this who doesn't have to vote for the Independent Spirit Awards.
Glenn Gaylord
Super Reviewer
½
First of all, this film is by no means a feel good, popcorn popping piece of cinema. It's a rather dark, disturbing tale shot in quite dismal premises to tell a story that is real, but not one people want to hear. However, I was glued to the screen due to the brilliant acting performances by Maria Bello and Jason Patric. They portray characters whose tattered souls take comfort in one another through the internet using e-mail, pictures, and promises of sordid sexual encounters. Nancy(Bello), is a severely damaged woman due to being a victim of child abuse, and self mutilation is something that she simply can't keep herself from comitting. Her husband only cares about his virtual golf game he's set up in a downstairs room as she is suffering above. She sees a therapist, but what is it that Nancy ultimately needs? When it comes down to it, a download can contain various information, good and bad, but it does not however contain a pulse.
Downloading Nancy Quotes
There are no approved quotes yet for this movie.