Downsizing
(2017)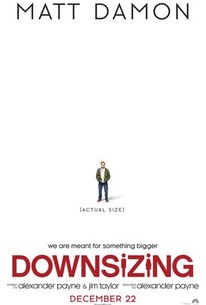 TOMATOMETER
AUDIENCE SCORE
Critic Consensus: Downsizing assembles a talented cast in pursuit of some truly interesting ideas -- which may be enough for some audiences to forgive the final product's frustrating shortcomings.
Movie Info
When scientists discover how to shrink humans to five inches tall as a solution to over-population, Paul (Matt Damon) and his wife Audrey (Kristen Wiig) decide to abandon their stressed lives in order to get small and move to a new downsized community--a choice that triggers life-changing adventures.
News & Interviews for Downsizing
Critic Reviews for Downsizing
Audience Reviews for Downsizing
The clear disappointment of the year. The characters in this film are so mundane, most of the dialogue sounds like small talk, and the story is just so uninteresting. The premise is okay, and that is the nicest thing I can say about this film. Listening to the lame banter makes you actively wonder why you paid to watch this when you could have just eavesdropped on two coworkers complaining about it being Monday. And as bad as everything was, it was made a lot worse by the performance of Hong Chau, whose performance is ridiculously obnoxious, and honestly a little racist. I can't think of any type of moviegoer that would enjoy this film, so just skip it completely.
Sanjay Rema
Super Reviewer
½
THE INCREDIBLY BLAND SHRINKING MAN - My Review of DOWNSIZING (2 1/2 Stars) A new film by Alexander Payne always gets me excited. I loved CITIZEN RUTH, ELECTION, ABOUT SCHMIDT, SIDEWAYS and NEBRASKA but was not a huge fan of THE DESCENDANTS, feeling it lacked the specificity of his Midwestern upbringing. I can't fault this extremely talented writer/director for stretching, but his deep, wry connection to his Omaha roots has brought out the best in him. ELECTION in particular is the best social satire and the most prescient I've seen in decades. Although Reese Witherspoon got the lion's share of the praise for an iconic performance, Matthew Broderick did the finest work of his career by managing to make his dullard of a high school teacher endlessly compelling to watch. This challenge seems near and dear to Payne's heart, as he has dipped into the dull yet fascinating lead character well frequently throughout his career. Now with DOWNSIZING, his latest collaboration with co-writer Jim Taylor, the filmmakers have once again featured a dead inside main character, but the results ultimately misfire despite the attempt to stretch themselves. There's much to enjoy, but you have to sift through a lot of messiness to find it. A clear parable about climate change, DOWNSIZING goes off the rails by also trying to cram immigration, racism, classism, AND a love story into its sci-fi premise. In the not too distant future, with overpopulation and the melting ice caps threatening our very existence, a group of Norwegian scientists perfect a process in which humans can be shrunk to approximately 5" in height, thus saving our planet's resources and reducing spending for the individuals who opt in on the operation. It's a compelling concept, and Payne and Taylor have considered the details and consequences very well, especially the fact that these parking lot-sized communities need netting to protect its small people from insects an UV rays. Into the fray jumps Paul Safranek (Matt Damon) and his wife Audrey (Kristen Wiig), a struggling, unhappy Omaha couple whose American Dream has turned into a nightmare as they struggle to make ends meet. When they attend a presentation on downsizing, which deftly resembles those ripoff timeshare sales pitches (with perfect cameos by Neil Patrick Harris, Laura Dern, and Niecy Nash), they opt for a more luxurious and ecologically sound life in the little community of Leisure Land. Of course, complications ensure, including martial strife and Paul's discovery that all is not quite what it seems in his new environment. When he attends a party at his upstairs neighbor (Christoph Waltz), an opportunist who, along with his friend Konrad (Udo Kier), makes money by importing miniaturized versions of such items as Cuban cigars, he meets a Vietnamese cleaning woman named Ngoc Lan Tran (the incredible Hong Chau) who will change his entire life and worldview. A dissident who was forced into downsizing by her repressive government, Ngoc Lan escapes to the U.S., loses one of her legs and temporarily receives a little notoriety before having to live in a hidden, poor tenement in Leisure Land, filled with minorities who survive by doing the menial work the rest of its citizens prefer not to do. Sound familiar? Welcome to the American 99%! Chau has received a lot of criticism for what many have called a gross, tone deaf stereotype. Yes, she sounds like Short Round from Indiana Jones, but the fact remains that broken English is a real thing. Her uneasy grasp of the English language may get a few laughs, but her character is no joke. She's an extremely layered creation with heartbreaking, stunning moments of vulnerability and fortitude. She speaks her mind without forethought but also will convey joy and sadness in the same breath in her indelible "I go to Norway" speech. It's one of the best scenes in a movie I've seen all year. So why have I rated this film so low? Well...there's no question that at a very specific point, this movie goes off the rails. When circumstances change the setting to the fjords of Norway, with terribly performed supporting roles coming out of the woodwork and its environmental issues placed so squarely on the nose, you can't see the nose anymore! It all makes sense story-wise, with it definitely being the likely conclusion to what has come before, but tonally, it's a jarring unwelcome and oh-so-slow shift from what was some fairly astute satire. It doesn't help that with the exception of Ngoc Lan's slum, the rest of the film suffers from cinematographer Phedon Papamichael and production designer Stefania Cella's too glossy, too high key looks. It feels like a cheaper version of Lily Tomlin's THE INCREDIBLE SHRINKING WOMAN with way less perspective effects. After a while, I felt like I was trapped in Disneyland without a Fast Pass. I'm willing to forgive all of the above, because I love when filmmakers travel outside their comfort zones and have something to say, but the biggest misstep of all is the fact that Damon's character, while well-meaning yet short-tempered, is so completely uninteresting that shrinking him feels redundant. He's not interestingly bland like, he's just bland. It's clearly the point Payne and Taylor are trying to make, but without a shred of anything interesting about poor Paul, except for the fact that he recognizes the wonderfulness of Ngoc Lan, he brings the whole movie down. I don't even blame Damon. He tries to give us some sweet moments, especially when he and Ngoc Lan discuss the many different ways Americans like to f*ck. This is a problem with the writing. Paul remains a bore from beginning to end. DOWNSIZING reminded me in so many ways of the 2013 remake of THE SECRET LIFE OF WALTER MITTY. Both feature a dull lead character who goes on a journey of discovery, both criminally underuse Kristen Wiig, both take huge tonal shifts when they relocate their settings to European environment, and both have a fantastical aesthetic. I enjoyed MITTY more, because it stayed close to Ben Stiller's character, making us understand the sad sack with a hero inside dying to emerge. We never fully understand Damon's character other than his evolving sense of right and wrong. By the end, I liked the decisions he made. I just wish they were made by someone more interesting. DOWNSIZING isn't a total disaster. I still recommend it for Chau's transcendent work and its GULLIVER'S TRAVELS sense of adventure. It's simply all over the place and is filled with so many characters who don't quite land. Still, I admire Payne so much in the same way I love the work of James L. Brooks, that I'll follow him anywhere...at least for now.
Glenn Gaylord
Super Reviewer
Alexander Payne is not exactly the first name you would think of when it comes to science fiction. The man has a history of road trip comedies, average Midwestern men, mid-life crises, and the colorful miscreants of society. The fact that the director of Sideways and Nebraska is tackling The Incredible Shrinking Man is a bold move. Payne is outside his comfort zone with Downsizing, and it shows at points. While never quite satisfying the possibilities of its premise, Downsizing is still worth watching for its memorable moments and for the sheer brilliance of one outstanding performance. In the not-too-distant future, science has developed the technology to shrink human beings to five inches tall, approximately 1/100th of their size. A middle-income couple can live like the top one percent because their money goes further. Paul Safranek (Matt Damon) is a schlubby, regular guy suffering from the ennui of a job he hates and a life that feels unfulfilled. He and his wife, Audrey (Kristen Wiig), decide to undergo the downsizing procedure, which is irreversible. Paul's wife backs out at the last minute but he doesn't find out until after he's gone small. Now with a McMansion all to himself, Paul has to readjust to what he thought his new life would be like. He moves into a condo and shirks the offers to join the parties of his hedonist neighbor, Dusan (Christoph Waltz). Paul finally decides to live life and embraces new experiences, the biggest befriending Ngoc Lan Tran (Hong Chau), a one-legged Vietnamese cleaning lady who was downsized against her will for being an overseas political activist. Paul feels drawn to this woman and she opens his eyes to the larger world around him. The strangest part of Payne's movie is that the main thrust of the story could have been told without all of the science fiction dross. This is very much a romantic comedy/drama that follows the formula of a man jilted at the altar who has to get his life back together, finds someone new who changes his perspective on life, and then they get together by the end. You could have plucked this story and set it in an ordinary world and it still would have worked, which begs the question whether the world of Downsizing is properly applied. The consumer commentary seems muddled, with the rationale for downsizing being helping the planet, reducing the population so to speak, but really it's an escape into a fantasy of wealth. People are downsizing so they can live in luxury and leisure. This should set up Payne for his incisive brand of satire as he skewers the selfish and self-righteous foibles of mankind, except that doesn't really happen. Sure, eventually in the second half the movie opens up its tiny world a little wider, revealing the not-so-hidden subculture of immigrant labor toiling away to keep everything stable and pretty. It's obvious social commentary and rarely does it go a step further than just recognition. And so the film becomes another in a long line of movies about a man who must be shaken from his malaise and enjoy the possibilities of life he never knew existed. Downsizing eventually ignores its sci-fi conceit to tell a relatively ordinary tale of self-actualization. Payne's premise would have best been explored through the more open parameters of a television series. Downsizing is an interesting concept that leads to other natural questions over how this tiny world operates and also how it interacts with the larger community. There's a small scene where a drunk overhears Paul's plan to shrink and argues that little people shouldn't be granted the same voting rights as "normal-sized" citizens. The normies contribute more to society and should be given more credit, he argues, before being shooed away. This political division could have made for an interesting topic of reflection itself, but like many of Payne's pit stops, it comes and goes after whetting your appetite for further examination. What about a story where downsizing is a punishment to do away with the "undesirables" of a nation? A TV series would have allowed more room to explore, with finer nuance, the details and possibilities of this fanciful world. Payne allows his movie to breathe, taking extended jaunts on different ideas but rarely enough to satisfy your sense of curiosity. The last act takes place at the original downsized colony in Norway, though at their diminutive size I wonder if it took them months to travel in Dusan's yacht. It's meant to think about what will come after humankind has passed the point of no return when it comes to climate change. Paul has to rethink what he wants his legacy to be and what meaning his life will have, which then pushes him into a rather simplistic choice of go with the girl or the cause. Given the rest of the movie's focus, you shouldn't be surprised what decision he ultimately makes. However, the real reason you should legitimately see Downsizing is for the astounding, star-making, can't-take-your-eyes-off-her performance by Hong Chau (Inherent Vice, Big Little Lies). I cannot recall another movie where a character comes in at the halfway mark and just takes over completely, single-handedly lifting the movie up. Every moment she is onscreen is made better. You've never seen a character in a mainstream movie quite like Ngoc Lan Tran. She's a political dissident, amputee, and lower-class cleaning woman who teaches Paul about the class divides. Tran is tragic, comic, caustic, lovable, and Chau is an acting revelation. I've read several reviews that found her to be a cringe-worthy, borderline racist depiction of an Asian woman meant to be laughed at, and I strongly disagree. At no point was I laughing at Tran because of her status, her ethnicity, or her broken English cadences. I was laughing because she was a force of nature that blew away the pretensions of others, that cut to the chase, and spoke her mind in a carefree and honest manner. Her matter-of-fact affectations are so perfectly delivered in accordance with the character's personality. There are moments where her character is being set up for one thing and Tran goes entirely in another direction, and whereas you might have laughed at the start she surprisingly earns other emotions. Take for instance a scene where Dusan tries to ditch her by making an excuse about a sudden travel commitment. Tran takes this moment and turns it into a genuinely poignant monologue about the unexpected nature of fate. By the end she's crying out of sheer elation, and those tears are not meant for ridicule. Downsizing realizes what an asset it has and makes her the deserved focal point of the second half. You'll fall in love with her too. Chau doesn't just deserve an Oscar nomination; she deserves to win everything. Downsizing is an episodic high-concept comedy where the shrinking is irrelevant to the main storyline that evolves over two plus hours. This is an adult movie that explores some mature topics with surprising time and scrutiny, and then it can also be a simplistic rom-com that misses the mark on larger, Swiftian social satire. It's another story in a long line of disaffected, middle-aged men finding their groove again, except then it becomes the story of a Vietnamese activist and her unique persona. Hong Chau is the reason you should see Downsizing above all. She doesn't so much steal her scenes as just take full ownership over the back half of the movie. Her performance is so uniformly excellent that you wish the rest of Payne's uneven movie could meet her commitment. There are a lot of ideas here that seem to get brushed aside for the conventional formula of a romantic union, even if the pairing is rather unconventional. Downsizing is an entertaining movie that doesn't quite amount to more than the sum of its little parts. Nate's Grade: B
Nate Zoebl
Super Reviewer
Downsizing Quotes
There are no approved quotes yet for this movie.
Discussion Forum
Discuss Downsizing on our Movie forum!