Downtown
(1990)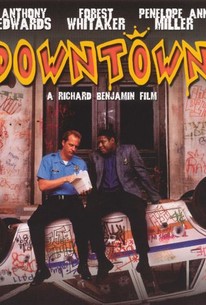 AUDIENCE SCORE
Critic Consensus: No consensus yet.
Movie Info
When suburban police officer Alex Kearney (Anthony Edwards) angers a wealthy, influential citizen by stopping him for a traffic violation, he finds himself transferred to the city's worst precinct. Struggling to adapt to his new inner-city surroundings, Kearney must deal with his gruff new partner, Dennis Curren (Forest Whitaker), as the two attempt to break up a crime ring. ~ Iotis Erlewine, Rovi
Critic Reviews for Downtown
All Critics (4) | Fresh (1) | Rotten (3)

Ozus' World Movie Reviews
Time to COP a good gigglefest

Blandly familiar tale of mismatched cops on the streets of Philadelphia.

Audience Reviews for Downtown
½
This was a very impressive cop buddy action movie. It takes place in the slums of Philly and revolves around a patrolman who gets tossed up to the city's worst precinct after a flub when pulling over a rich asshole. He's matched up with a loose cannon for a partner. It's Lethal Weapon material for sure except that's not much of a criticism since the movie was actually entertaining. If cheesy, but entertaining with a rather good performance by Whitaker and from Joe Pantoliano who plays a menacing bald assistant to the villain of the movie. His death scene by way of a wood chipper is worth checking out the movie.
The Vulture
½
Adding yet another notch to the always engaging buddy cop subgenre of films, Downtown offers the unique concept of a books smart, suburban Philadelphia cop (Anthony Edwards) who is unfairly reassigned after busting a wealthy businessman (The Thing's David Clennon) with connections to the dangerous inner city precinct where he reluctantly befriends hardened black cop Forest Whitaker. The two butt heads at first understandably and even more so when they plunge into a murder case involving the death of Edwards former suburban partner, his killer and lunatic Joe Pantoliano, and Clennon, who turns out to be shady after all. Taking somewhat of a Lethal Weapon approach, the film surprisingly delivers a lot of violence and death for a buddy cop film, but still manages to throw in plenty of comically-racist jokes and jabs on both ends, though whites tend to get the most in this. Edwards and Whitaker are a good mix together, as well as the rest of the cast, save for Penelope Ann Miller (as Edwards' wife) who is pretty much in a throw-away role. Pantoliano makes for a great, creepy villain, whose comeuppance is a bit wacky but definitely a highlight of this film's violence. Decent direction from Richard Benjamin (My Stepmother is an Alien, The Money Pit). The movie was made in 1990, but still maintains that 80's feel to it. Overall, not the greatest of buddy cop films, but worth a watch if you are a fan of those types. Good stuff.
Jason Duron
½
This is a film from the 1990s that is underrated. A great action film with some good humor, almost like Lethal Weapon. Anthony Edwards and Forest Whitaker star in this film as cops who are partners dealing with currupt businessmen. A movie for all action fans.
Jeffrey McCurdy
Downtown Quotes
There are no approved quotes yet for this movie.
Discussion Forum
Discuss Downtown on our Movie forum!