Downtown 81
(2001)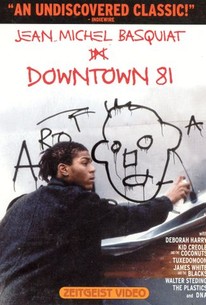 Movie Info
The film is a day in the life of a young artist, Jean Michel Basquiat, who needs to raise money to reclaim the apartment from which he has been evicted. He wanders the downtown streets carrying a painting he hopes to sell, encountering friends, whose lives (and performances) we peek into. He finally manages to sell his painting to a wealthy female admirer, but he's paid by check. Low on cash, he spends the evening wandering from club to club, looking for a beautiful girl he had met earlier, so he'll have a place to spend the night. Downtown 81 not only captures one of the most interesting and lively artists of the twentieth century as he is poised for fame, but it is a slice of life from one of the most exciting periods in American culture, with the emergence of new wave music, new painting, hip hop and graffiti.
Rating:
R
Genre:
, ,
Directed By:
Written By:
In Theaters:
On DVD:
Runtime:
Studio:
Critic Reviews for Downtown 81
Audience Reviews for Downtown 81
½
"Downtown 81" wants to be transcendent and wants to the cognoscenti on art and culture. I'm not sure if it achieves just that (it probably doesn't,) but it does manage to capture the small pockets of culture in Manhattan that revolves around music, visual arts, fashion, etc. If anything the film is a fascinating time capsule that looks like a documentary and has the ultra-left ideas and attitudes of the people in the place imbedded in the screenplay. As the film progresses it gets more and more avant-garde, and like the hip drugged youth in the film whose ambitions only go as far as their ecstacy/ketamine/THC-suppressed drive for change, the film also feels as if it nearly loses sight of its original ambition and scope, especially in the 2nd and 3rd act. The film embraces its disjointedness and converts itself into, what might as well be, a compilation of electrifying, kinetic music videos, as inane and aimless they may be. But, at the same time it is an impeccable showcase of the area's culture and the people whom it belongs to. Other than the premise, which is still somewhat interesting, most notably with the charming ending, some choices in editing and camera angles are questionable. At best the film, which is really just an embodiment of one idea after the other, is moderately interesting. Perhaps amusing or a pleasant distraction. Just don't expect it to be nearly as enriching as it pretends to be.
Edward Stymest
Super Reviewer
The voiceover in the beginning of this says something about fairy tales coming true, and the biggest fairy tale is paying $422 to live on the Lower East Side. Of course, when this was made it was still bombed out, beautiful, and covered with poetic graffiti instead of ugly cold glass high rises and corporate sponsored pseudo "street" art by Nintendo. There's not a real narrative but what there is seems certainly relatable.. I mean, Basquiat at this time is an up and coming artist. He goes to the hospital, falls behind on rent, tags his thoughts in public spaces. There are nightclubs, strip joints(with some surly TG strippers! And Cookie Mueller. And the Contortions playing, like back when strippers didn't have to listen to Beyonce all day long.), having a band, unsolved crime. The guy with the weed is not as cool as he thinks, but he's the guy with the weed. The person who actually has the money to buy art is more interested in if it matches her dining room than what it actually expresses.Throughout the course of this there are performances by a bunch of bands like DNA, James White & the Blacks(James Chance),The Plastics, etc. that I'm seriously depressed about having been too young to have caught. The one thing I could have done without is a sub-plot about Jean's flirtation with a very mainstream conventional fashion model cuz, you know, I'm not a 14 year old boy where I think it would be mad cool to date a supermodel. Also because it's weak when self-styled "bohemian" boys get intimidated by girls with comparable creativity, talent, or at least knowledge of obscure music, art, comics and what have you, so they claim to be one way but select uninteresting normal female partners. Also because I've had it confirmed that at that point in his career Basquiat was not gettin' down with norms (if he ever did, I dunno.) Fortunately, this sub-plot remains very minor in the film and ultimately goes nowhere. Apparently this was someone's student film, but it looks pretty polished.
Jenny Gonzalez-Blitz
½
A weird movie to take in. it's kind of fiction, kind of documentary, kind of a concert movie, all and none at the same time, with some cool Basquiat graffiti and drawings scattered around (no big paintings though, sorry, save for the one he carries around and tries to sell). It also makes me really want to check out *some* of the music (it's either really amazing or really ear-bleeding). Oh, and Debby Harry has a weird WTF cameo.
Jack Gattanella
Downtown 81 Quotes
There are no approved quotes yet for this movie.
Discussion Forum
Discuss Downtown 81 on our Movie forum!