Dr. Bronner's Magic Soapbox
(2007)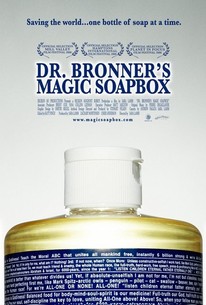 Dr. Bronner's Magic Soapbox Photos
Movie Info
Documentary filmmaker Sara Lamm explores the life of the mental institute escapee, master soap-maker, and self-proclaimed rabbi whose all-natural soap would become a counter-culture cleaning product sensation and a staple of health food stores everywhere. In 1947 - after emigrating to the United States from Germany in order to escape the Third Reich and fleeing from a mental institution where he was forced to endure electroshock therapy - Dr. Emanuel Bronner finally realized his destiny. An experienced soap maker whose faith in humanity hadn't been shaken by the fact that his parents died in the Holocaust, Dr. Bronner began producing a multi-purpose cleaning product that would bring people together while providing them with tips for living a better live. The labels on Dr. Bronner's Soaps were filled with inspiring prose borrowed largely from Jewish and Christian sources, and his company was one of the first socially conscious organizations to mass produce a popular product. While Dr. Bronner himself may be long gone, his popular soap lives on. For viewers curious to hear the tale of a man who dedicated himself to the betterment of the human race through the use of all-natural cleaning products, this documentary presents Dr. Bronner's stranger-than-fiction story in greater detail than ever before.
Critic Reviews for Dr. Bronner's Magic Soapbox
Audience Reviews for Dr. Bronner's Magic Soapbox
There's something that is all at once amusing, disturbing, inspiring, and tragic about Dr. Bronner's story. I use his soaps a lot and the movie helped me understand the mysterious, bizarre labels.
Art Bucher
What an interesting story! I'm working on a class advertising campaign for this product so we watched this for research. Great to know there are companies out there like this that exist and have flourished!
Robert Alley
OMG haha cool man! Edit: 8-25-12 I am about 30 mins into the movie and I love it already. I want to buy more soap now!
Princess Sarah
Dr. Bronner's Magic Soapbox Quotes
There are no approved quotes yet for this movie.
Discussion Forum
Discuss Dr. Bronner's Magic Soapbox on our Movie forum!