Dr. Caligari
(1989)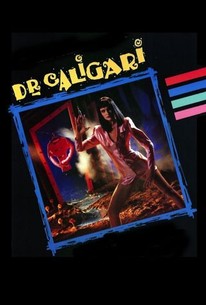 AUDIENCE SCORE
Critic Consensus: No consensus yet.
Movie Info
It is not a sequel to the German expressionist classic The Cabinet of Dr. Caligari. Rather it is almost a parody of the original. The story centers on the nymphomaniacal granddaughter of the nefarious Caligari. She has become a psychiatrist and runs the CIA (Caligari Insane Asylum), an institution built upon a toxic waste dump. Everything about this place, from the buildings to the staff to the patients themselves are strange. The beautiful Dr. Caligari is the strangest of all. When not attending to her regular duties, she continues to perform the brain research that will one day allow her to absorb the intelligence of her genius ancestor whose brain is preserved in a jar. She believes the key is in the fluids of grandpa's brain. She begins experimenting with herself and then on others.
Rating:
R
Genre:
, ,
Directed By:
Written By:
In Theaters:
On DVD:
Runtime:
Studio:
Shapiro Glickenhaus
Audience Reviews for Dr. Caligari
Absolute artistic madness! This brain damaged, perverse fever dream is set in the Caligari Insane Asylum, a nightmare labyrinth of impossible angles and colors, within which the fabled doctor's kinky granddaughter rules with an iron hand, a phallic-looking syringe, and a hot-pink PVC dress. Caligari's associates include, a leering therapist and a clone like nurse team who are loonier than their own patients, and in this place, that's saying a lot. Most of the experiments taking place have to do with the doc's desire to transplant her grandfather's synaptic fluid into her own brain to acquire his genius. She also has a peculiar fascination for prize patients Mrs. Van Houten, a repressed housewife with horrifying sexual fantasies involving doors with giant tongues and oozing sores, razor wielding madmen, and televisions that preform cunnilingus, and Mr. Pratt, a cannibalistic pedophile who loves his electroshock therapy a little too much. The sets are amazing, the dialogue is like some kind of insane schlock poetry, the camera movements are beautiful and the actors are all over the top in the most wonderful way possible. Every word, every movement, every angle was perfectly delivered in this surrealist, campy, over the top, psycho sexual masterpiece.
Philip LoPresti
The granddaughter of Dr. Caligari performs neurological experiments on her asylum patients in this surreal and sexy low-budget R-rated oddity by a director better know for avant-garde hardcore porn films like CAFE FLESH and NIGHTDREAMS. The sets and costumes are cheap but very inventive, but the amateurish acting and joyless villain hold it back from being much more than an intriguing curio.
Dr. Caligari Quotes
There are no approved quotes yet for this movie.