Dr. Lamb
(1992)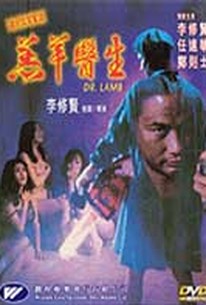 AUDIENCE SCORE
Critic Consensus: No consensus yet.
Movie Info
Popular Hong Kong actor Simon Yam, who had previously portrayed serial killer Lam Guo-wen in a television miniseries, plays his fictionalized counterpart in this gore-soaked exploitation film from producer-director Danny Lee. Starting with Lam's difficult childhood, the story then moves forward to the police capture of Lam after he submits film containing images of a naked woman who appears to be dead to a photo developing lab. The police tactics are quite brutal, but despite beating Lam repeatedly, they are unable to extract a confession until they show his family some explicit photographs he took of his young niece. His confessions are then graphically played out for the remaining hour, with all the sex, blood, and violence which Lee (who also plays Police Inspector Lee here) could fit in, as the catalog of Lam's atrocities is exhibited with an enthusiasm bordering on the voyeuristic. He was working nights as a taxi driver, and used his position to farm female victims from the city's streets on rainy nights, indulging in a penchant for necrophilia, cannibalism, and the photography of the women's dismembered bodies as a souvenir of his activities. The film's success led to a number of so-called "True Crime" films in Hong Kong, mostly following the conventions laid out in Dr. Lamb, although few approach its visceral and graphic violence. Kent Cheng co-stars with Lau Siu-ming and Emily Kwan. ~ Robert Firsching, Rovi
Rating:
NR
Genre:
, , ,
Directed By:
In Theaters:
On DVD:
Runtime:
Critic Reviews for Dr. Lamb
Audience Reviews for Dr. Lamb
Lam Kor-wan, the 27-year-old Hong Kong taxi driver who strangled four female occupants in 1982, later fielding dressing his victims in the family flat and preserving their sexual organs in jars earning him The Jars Murderer moniker throughout the media is given the full-court press in "Dr. Lamb," a Category III update of the proceeding year's made-for-television "Hong Kong Criminal Archives: Female Butcher" based on the infamous case also starring Simon Yam in the titular role. While not a provocation of Lam's gruesome crimes, recreated here in all the sordid details far too graphic for its televised predecessor, "Dr. Lamb" does at least -- albeit in brevity -- give one of Hong Kong's most notorious serial killers some semblance of context by attempting to understand what might have helped shape Lam's pathology. (The film's prologue portrays the serial killer as an anti-social adolescent trapped in a dysfunctional home with an onerous fascination with human sexuality). Given the Category III subgenre largely exits to exploit sex and violence "Dr. Lamb" rarely approaches its subject matter with the same nagging sense of cognitive dissonance much of Hong Kong wrestled with when the case went to trial. Was Lam simply a bad seed or actually clinically insane? Co-star, producer, and director Danny Lee fails to even approach the question -- he's too preoccupied with the specifics of Lam's sickening crimes (which, unfortunately for us, involved necrophilia) in addition to his own umpteenth turn as a hard-nosed investigator; however, with its chintzy lighting, sleazy cinematography, intermittent peppering of gross-out humor and occasionally over-the-top performances "Dr. Lamb" sort of works as a vice mag exploit of Lam Kor-wan's crimes which were tailor made for this brand of uber-lowbrow entertainment.
Adam Laidig
Simon Yam goes loco in this wonderful Cat III classic. Truly disturbing scenes mixed with those wacky police and their brutal tactic. First time I saw this, well before I became accustomed to Cat III weirdness it confused the heck out of me. Why were there so many different genres in the same scene. One minute we see a brutal murder scene, played seriously, then there's a "light comical" scene with a dismembered breast. Now I love that crazy crap, but boy, it's not for the faint hearted.
Christopher Brown
Super Reviewer
From these jaded American eyes, the film fails to be a gripping police procedural or creepy look into the mind of a killer. It is successful, though, as a look at how Hong Kong cinema was trying to ape American crime thrillers of the time, down to the lighting and ridiculous police banter. The film is graphic in places, but never believably so.
Discussion Forum
Discuss Dr. Lamb on our Movie forum!
News & Features