Dr. Strangelove Or How I Learned to Stop Worrying and Love the Bomb
(1964)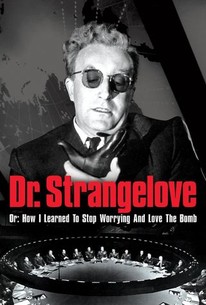 Dr. Strangelove Or How I Learned to Stop Worrying and Love the Bomb Videos
Dr. Strangelove Or How I Learned to Stop Worrying and Love the Bomb Photos
Movie Info
In 1964, with the Cuban Missile Crisis fresh in viewers' minds, the Cold War at its frostiest, and the hydrogen bomb relatively new and frightening, Stanley Kubrick dared to make a film about what could happen if the wrong person pushed the wrong button -- and played the situation for laughs. Dr. Strangelove's jet-black satire (from a script by director Stanley Kubrick, Peter George, and Terry Southern) and a host of superb comic performances (including three from Peter Sellers) have kept the film fresh and entertaining, even as its issues have become (slightly) less timely. Loaded with thermonuclear weapons, a U.S. bomber piloted by Maj. T.J. "King" Kong (Slim Pickens) is on a routine flight pattern near the Soviet Union when they receive orders to commence Wing Attack Plan R, best summarized by Maj. Kong as "Nuclear combat! Toe to toe with the Russkies!" On the ground at Burpleson Air Force Base, Group Capt. Lionel Mandrake (Peter Sellers) notices nothing on the news about America being at war. Gen. Jack D. Ripper (Sterling Hayden) calmly informs him that he gave the command to attack the Soviet Union because it was high time someone did something about fluoridation, which is sapping Americans' bodily fluids (and apparently has something to do with Ripper's sexual dysfunction). Meanwhile, President Merkin Muffley (Sellers again) meets with his top Pentagon advisors, including super-hawk Gen. Buck Turgidson (George C. Scott), who sees this as an opportunity to do something about Communism in general and Russians in particular. However, the ante is upped considerably when Soviet ambassador de Sadesky (Peter Bull) informs Muffley and his staff of the latest innovation in Soviet weapons technology: a "Doomsday Machine" that will destroy the entire world if the Russians are attacked. ~ Mark Deming, Rovi
News & Interviews for Dr. Strangelove Or How I Learned to Stop Worrying and Love the Bomb
Critic Reviews for Dr. Strangelove Or How I Learned to Stop Worrying and Love the Bomb
Audience Reviews for Dr. Strangelove Or How I Learned to Stop Worrying and Love the Bomb
Dr Strangelove is part of the vast collection of Stanley Kubrick's greatest films, and goes down, as the greatest film about the cold war and nuclear scare, which the world has ever seen, combining comedy and a real fright perfectly. Strangelove, or, "How I learned to stop worrying and love the bomb", tells the story of what could happen if the US nuclear programme went wrong. Based around the fears of many Americans, and much of the Western World, at the height of the cold war, a US air force general, who is the only one who has the codes to launch and bring back a fleet of planes carrying nuclear weapons, goes mad, and orders his entire fleet to attack the Soviet Union. As the story unfolds we see the pure exceptional talents of Sellers in three characters, the bumbling British RAF pilot, Lionel Mandrake, the worried and hysterical US President, and the former, (perhaps still), Nazi weapon specialist, Dr Strangelove. Through each of these characters, alongside marvellous acting from George C. Scott and Peter Bull, we see the fleet of H-Bombs draw closer to the USSR from four different perspectives, as the possibility of a nuclear war draws ever closer. Released to cinemas just a year after the Cuban Missile Crisis, where the world came closer to nuclear war than ever before, Kubrick, in all his wit and talent, took a very real possibility, exposing the weaknesses of the safeguards of nuclear warfare, and made audiences laugh with joy, despite the fact the event could have happened just later that afternoon. With Peter Sellers, George C. Scott, and the direction of Stanley Kubrick, the film makes for an incredibly entertaining ride, where we are taken along with each of the characters, and allowing us to look right into the weaknesses of the nuclear programme. The acting of each and every character is purely fantastic, and a quality which most people would find hard to top. The cinematography, in the style of a documentary like handheld camera, adds to the realism, whilst at the same time, adding to the ridiculous and humorous connotations of a nuclear war breaking out. The script, based on a serious novel called Red Alert, was adapted perfectly for the funny and sharp style Kubrick was aiming for, balancing moments of serious action and tension, with the laugh out loud moments following straight after. It is hard not to laugh at the fantastic film which Kubrick has produced. Whilst it may be more than 50 years old, and the cold war has come to an end many years ago, Dr Strangelove still impacts on audiences today, in the same way it did in 1964. A fantastically funny, brilliantly acted, and exceptionally directed story, which only the master team of Sellers, Scott and Kubrick could achieve.
Adam Kelly
Super Reviewer
I never would have thought that such a simple story and such simple situations could turn into such a loveable film. As the military plans nuclear war it's almost as if the cameras have been placed around the board of directors as the plan attacks. The conversations are so well plotted out that it seemed as though I was watching a documentary in moments. I haven't seen that many war films, and although this is less of a man-to-man combat sort of war film and more of a dialogue driven plan execution with extremely intense character motifs throughout, I think that's why I enjoyed it so much. It's a basic film with a lot of effort and I strongly comment Kubrick for that! "Dr. Strangelove" is a great class film!
½
Dr. Strangelove is a brilliant satire that pokes fun at the bomb scare and is still amusing by today's standards.
Daniel Lermenator
Super Reviewer
Dr. Strangelove Or How I Learned to Stop Worrying and Love the Bomb Quotes
| | |
| --- | --- |
| Gen. "Buck" Turgidson: | Your average Ruskie doesn't take a dump without a plan. |
| | |
| --- | --- |
| President Merkin Muffley: | Gentlemen! you can't fight in here! This is the War Room! |
| | |
| --- | --- |
| Dr. Strangelove: | Mein Fuhrer, I can walk |
| Dr. Strangelove: | Mein Fuhrer, I can walk. |
| | |
| --- | --- |
| President Merkin Muffley: | General Turgidson. it is the avowed policy of our nation never to strike first with nuclear weapons! |
| Gen. Buck Turgidson: | Well sir, I would say that General Ripper has already invalidated THAT policy! |
Discussion Forum
Discuss Dr. Strangelove Or How I Learned to Stop Worrying and Love the Bomb on our Movie forum!