Wes Craven Presents Dracula III: Legacy
(2004)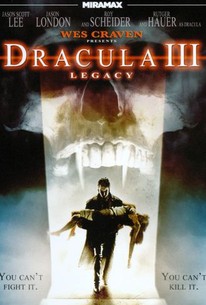 Movie Info
In this direct-to-video sequel to Dracula 2000, iconic vampire Dracula (Rutger Hauer) has once again escaped the clutches of Luke (Jason London) and Father Ufizzi (Jason Scott Lee), a pair of traveling vampire hunters. Luke and Ufizzi discover the undying bloodsucker has made his way back to his native Romania, and the hunters give chase. They arrive in Romania to discover the nation is caught up in a bloody civil war -- and that Dracula has kidnapped Elizabeth (Diane Neal), Luke's fiancée. Can Luke and Ufizzi finally vanquish Dracula and save Elizabeth in the midst of the chaos that sweeps the land? Produced in tandem with Dracula II: Ascension, Wes Craven Presents Dracula III: Legacy also stars Roy Scheider and Alexandra Westcourt.
Rating:
R
Genre:
Directed By:
Written By:
In Theaters:
On DVD:
Runtime:
Studio:
Miramax
News & Interviews for Wes Craven Presents Dracula III: Legacy
Critic Reviews for Wes Craven Presents Dracula III: Legacy
Audience Reviews for Wes Craven Presents Dracula III: Legacy
Nothing new, besides some cast and mythos which un-reflect even more on the previous films. It takes forever for Dracula to even show up, and his performance is less than memorable. The rest of the characters are more or less the same as the 2nd film. The action is lackluster and shows off more of the same stuff. Very thing plot and a ending that could of used a little more of a conclusion.
Wes Shad
A most disappointing and lackluster conclusion to the Dracula 2000 series, Dracula III: Legacy is a rather dull and formulaic vampire film. The story follows two vampire hunters that head to Romanian in search of Dracula, who they believe is behind a civil uprising. Jason Scott Lee and Jason London return to reprise their roles, and Rutger Hauer takes on the role of Dracula. Sadly, none of the promise that was setup with the second film is built upon, and the two films only seem tangentially related. Additionally, the low-budget effects and sets show through and detract from the storytelling. Dracula III: Legacy relies on tired old vampire tropes and has nothing original to offer.
Dann Michalski
Super Reviewer
½
Sink your teeth into this cool as hell and awesome horror film. It's thrilling, witty, sharp and totally awesome. Rutger Hauer is brilliant as Dracula in the newest chapter to the series. A fun and creepy thrill-ride that can almost be considered a masterpiece. A strong, compelling, suspenseful and intensely terrifying flick. An explosively exciting and very entertaining movie. Director, Patrick Lussier has done a great job with this series from the 2000 film to this riveting chapter in the series. From start to finish this movie is a thrilling and fun blast.
Wes Craven Presents Dracula III: Legacy Quotes
There are no approved quotes yet for this movie.