Dragnet
(1956)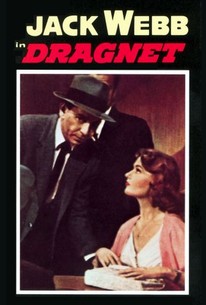 AUDIENCE SCORE
Critic Consensus: No consensus yet.
Movie Info
This film, based on the popular Dragnet TV series, involves the murder of former syndicate member Dub Taylor. LAPD sergeants Joe Friday and Frank Smith follow the trail of evidence to shifty gangster boss Stacy Harris, who during most of the film is able to avoid arrest through legal loopholes.
Rating:
NR
Genre:
, ,
Directed By:
Written By:
In Theaters:
On DVD:
Runtime:
Studio:
MVD Music Video
Critic Reviews for Dragnet
Audience Reviews for Dragnet
½
This movie was based on the 1950's version of Dragnet. This was the heyday of Black and White TV. The only way to do a color version of Dragnet was to show it in movie theaters. The 1950's version of Dragnet had a more pessimistic view of Los Angeles. The 1960's color TV version was more upbeat and tried to show LA as modern American city with a professional modern police force. The buildings and furniture were new. The 1950's version showed LA as a grimy depression era city. The buildings and furniture was old pre-war vintage. Most of the stories came from the 1930's and 1940's. The LAPD had gotten very corrupt during the depression and World War II. Cops weren't paid well during the depression and during the war the young guys were off fighting the war. Police departments all over the country were plagued with corruption that started with the prohibition era. Starting 1950 the LAPD started to clean house and used the Dragnet TV show to improve their reputation. The 1954 movie told the story of a gangland murder. The movie showed how the LAPD was fighting organized crime in the 1950's. The movie kind of looked like the 1960's TV show with all the bright colors but the clothes and cars were old style. The men all wore hats and the cars were pre 1954 models. The woman all had long dresses. Since the movie was based on a true story the ending had the killers dying before they could be tried. The ring leader died of cancer in a run down old hospital.
Donald White
½
Pete Kelly's Blues and Dragnet – Both films written by Richard Breen, and directed by Jack Webb, who also stars. [I]Pete Kelly's Blues[/I] is about a band trying to be bought out by a producer so he can take their money, and [I]Dragnet[/I] is about a cop just trying to solve a basic case. [I]Pete Kelly's Blues[/i] works much better as film, and is really pretty good, and while [I]Dragnet[/i] was fun, it just doesn't work as a film, which makes sense since it started as a show, and ended as a show. Still fun though. [I]Pete Kelly's Blues[/i]: A- [i]Dragnet[/i]: B Hard Times – [I]Hard Times[/i] stars Charles Bronson, who looks like he's drunk throughout the entire film, and James Coburn. Bronson is a street fighter, and Coburn is pretty much his manager, and sets him up fights and what. That's pretty much it, and the film follows the two as they win more and more fights. It's a really awesome film and has some great fight scenes in it. Check it out if you can get your hands on it. A Say Anything – I've been catching up on my 80s films, so I finally watched this, and it was really great. Definitely the best teen romance I've seen. It was just so good! That's it. A
David Heffler
Very similar to the television series, it has the same format. This is a little more bitter though than the series. Good cast, it has the expected corny dialogue and Jack Webb's very dry acting style. A must for fans of the series.
James Higgins
Discussion Forum
Discuss Dragnet on our Movie forum!