Dragon Seed
(1944)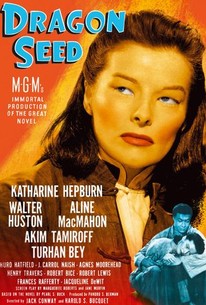 AUDIENCE SCORE
Critic Consensus: No consensus yet.
Movie Info
This lavish, 145-minute cinemadaptation of the Pearl Buck best-seller Dragon Seed was intended by MGM as a followup to the studio's successful film version of Buck's The Good Earth. In true Hollywood fashion, the Chinese protagonists are all played by Caucasian actors, with fascinating if not always convincing results. When a peaceful Chinese village is invaded by the Japanese prior to WW2, the men elect to adopt a peaceful, don't-rock-the-boat attitude towards their conquerors-and it is understood that the women will stoically acquiesce as well. But Jade (Katharine Hepburn), a headstrong young woman, intends to stand up to the Japanese whether her husband Lao Er (Turhan Bey) approves or not. She even goes so far as to learn to read and to handle a weapon, so that she may properly equipped for both psychological and physical combat. Jade's attitude spreads to the rest of the village, convincing even the staunchest of male traditional that the Japanese can be defeated only by offering a strong united front-male and female. Alas, there are a few Quislings in their midst, notably avaricious merchant Wu Lien (Akim Tamiroff), who learns all too late the terrible cost of collaboration. While it seems odd to see so many non-Orientals-Walter Huston, Agnes Moorehead, Hurd Hatfield, J. Carroll Naish-in the major roles, Dragon Seed manages to retain its power and entertainment value even 50 years after the fact (Incidentally, there are a few genuine Chinese in the cast-most of them playing Japanese!)
Rating:
NR
Genre:
,
Directed By:
Written By:
In Theaters:
On DVD:
Runtime:
Studio:
Warner Home Video
Critic Reviews for Dragon Seed
All Critics (3) | Fresh (2) | Rotten (1)
Quite moving, strong drama featuring Kate Hepburn.

One of MGM's worst melodramas of the 40s and a low point in the career of Hepburn, here miscast as a young and alert Chinese woman. Propaganda picture was made to please the government (and its Chinese allies) but by today's standards it's racist.

That Caucasian actors are cast in the primary Oriental roles greatly detracts from the film's authenticity.

Ozus' World Movie Reviews
Audience Reviews for Dragon Seed
A lavishly made war epic. Rather unusually cast with white actors playing many of the roles of the Chinese peasants. A product of the time it was made, showing the Japanese in a very unfavorable light. Nevertheless, I enjoyed it
Eric Jenkins
Katharine Hepburn as an oriental? You've been warned.
5.5/10. It was such an effort to use so many caucasian actors in asian roles, it really hurts the film when using asian actors would have been so much easier. This is one of Katherine Hepburns worst performances, she's not bad, but isn't good either. Aline MacMahon comes off best.
James Higgins
Dragon Seed Quotes
There are no approved quotes yet for this movie.