Dragon Squad (Maang lung)
(2005)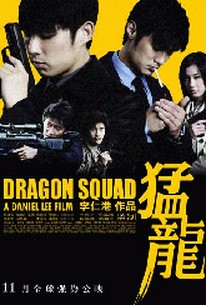 AUDIENCE SCORE
Critic Consensus: No consensus yet.
Movie Info
Sammo Hung, Michael Biehn, Maggie Q, and Shawn Yue star in this action-packed thriller concerning a disappeared crime lord and the elite team of Interpol agents who set out to recapture him at all costs. A notorious Triad crime boss has disappeared just as his case was about to go before the judge, and now he could be anywhere. Now, on the bustling streets of Hong Kong, a highly skilled team of Interpol agents wage all out war against the underworld in an apocalyptic bid to capture the heavily armed foe and ensure that justice is properly served. ~ Jason Buchanan, Rovi
Critic Reviews for Dragon Squad (Maang lung)
There are no critic reviews yet for Dragon Squad (Maang lung). Keep checking Rotten Tomatoes for updates!
Audience Reviews for Dragon Squad (Maang lung)
½
Visually stunning and action-oriented HK movie. The cast in the movie do their best to give this movie an edge! I was surprised to see American actor Michael Biehn (1984's The Terminator) appeared in this Hong Kong crime-action film that I honestly didn't know what to expect! And the story is believable with Jun-Ho Heo, Maggie Q and Sammo Hung. Nice shootouts and one big martial arts scene between Sammo and Jun-ho Heo. Maggie Q plays her role with ease, just by looking tough. There are times where director Daniel Lee allows the film to get carried away with hyper-kinetic camera work and quick-cut editing, but there are still some awe-inspiring moments of sheer genius, plus some stunningly developed set-pieces. A real heart-pounding, cold-blooded, ultra-violent actioner from Lee.
Dean McKenna
Super Reviewer
½
aka.Dragon Heat Very flashy and very very stylish in your typical Asian action John Woo type way but the whole thing does tend to feel like a computer game, almost like 'Time Crisis' the movie. I only really checked this due to Michael Biehn in the cast but there is also legend Sammo Hung and model Maggie Q, the rest of the cast are unknown to me but they are your regular slick good looking young Asian stars. The action is here pretty relentless at times with constant gun fights, never ending ammo supplies and a reasonable amount of claret flying around. Don't get me wrong the action is really decent and almost boarders on gun porn but at the same time I've never seen so many guns fired with bullets whistling by characters and pinging off metal yet no one on the good side or bad side gets hit!! well it takes a damn while anyway. So slick its shiny with ultra over the top coolness, plenty of slow motion fancy moves and more undercover jiggery pokery you can shake a stick at, is it good? its average but abit too overboard for me.
Phil Hubbs
Super Reviewer
A decent Hong Kong action film that sort of reminds me of Heat, but more fast paced and more emphasis on the action.
The story is nothing new. What it comes down to is cops taking on bad guys. As mentioned earlier, this film moves at a fast pace, which is good. This prevents you from becoming bored. The only real problem with the pace was the beginning. They sort of rush through the character introductions and the first few scenes sort of fly by before you can get a hold of what is going on. Nonetheless, the story becomes pretty easy to follow once it slows down. This film also uses some good cinematic elements and some interesting "segment titles" to liven the film up.
There are many recognizable actors in this film and since this film uses a combination of Chinese and English, the actors are from both places. From China, you have Simon Yam, Vanness Wu, and Eva Huang of Kung Fu Hustle fame. From America you have Michael Biehn. Then you have people like Sammo Hung and Maggie Q who are recognizable from both areas. The acting isn't all that bad either. I really enjoyed Sammo Hung and Eva Huang. Maggie Q can be my sniper any day as well.
The action comes in bunches and most of it is shootouts like the aforementioned Heat. They are just not as professional. Still, the alley shootout was very entertaining. Guns a blazing below and snipers going at it on the roofs. There is even a variety of action at the end. A sniper shootout, a mini-brawl, gun play, and even a nicely choreographed martial arts fight with Sammo. He can really move!
This film isn't the greatest cop action film out there, but it does its job to keep you entertained. Definitely worth the watch if you have the time.
Dragon Squad (Maang lung) Quotes
There are no approved quotes yet for this movie.