Dragons: Fire & Ice
(2004)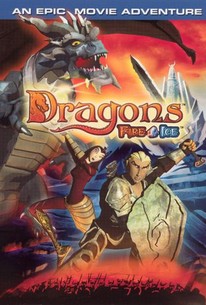 AUDIENCE SCORE
Critic Consensus: No consensus yet.
Movie Info
The animated adventure Dragons: Fire and Ice tells the tale of two kingdoms who have been in conflict for a very long time. The Draigar and the Norvagen each blame the other for the fact that the Great Dragons who were responsible for keeping the world peaceful are missing. The one person who might be able to solve the mystery is a wizard named Xenoz. One day a Black Dragon appears, setting into motion a series of events that will settle the war once and for all.
Audience Reviews for Dragons: Fire & Ice
A for effort, C- for execution. Surprisingly dull action sequences. Bonus points for a different visual take on dragons though.
Dave Murgie
Going to the movie rental store this week-end was a "Me" time thing. I'd paced the store, slowly, twice, when I finally stopped and gave the kiddie section a chance. My eyes spotted the word Dragons... I read the grabber and decided it was perfect; under 80 min. long and just the kind of movie that takes no critical thinking to follow: dragons, mytical powers, and computer animated. Yeah, I like it. It improved my sour mood.:) Next, I had backtracked down the isle and choose a film that was sure to torchure my mate! Nothing like a musical/opera to send a heavy metal drummer screaming for the hills! The couch & remote were all mine for about 2 wonderful hours... It was just me and Gerhard Butler's eyes, and voice. *sigh* The costumes; wow... Minnie Driver as the spoiled actress/drama queen was too funny. But when it came to Emmy Rossum, I just wasn't prepared to hear how good she is, even though I'd seen the 60 minute episode where they showed her returning to her former teacher to prepare for this role, and she sang for about 30 seconds.(the 60 min. segment was about the teacher not Rossum.) Phantom Of The Opera was moving, and I wasn't prepared either for the emotions it stirred for some of the characters (ei. The Phantom). I think it would have been ten times better seen live, and this movie only made me want more and more to someday get the chance.:D
Amy McDougal
Dragons: Fire & Ice Quotes
There are no approved quotes yet for this movie.
Discussion Forum
Discuss Dragons: Fire & Ice on our Movie forum!