Dreadnaught
(1981)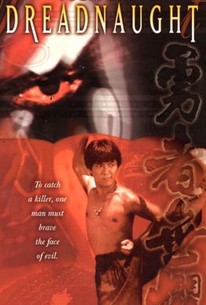 AUDIENCE SCORE
Critic Consensus: No consensus yet.
Movie Info
Director and master choreographer Yuen Woo-ping spins this brilliant kung-fu-thriller featuring future star Yuen Biao. The film opens with serial killer White Tiger (Yuen Shun-yee) fleeing from the authorities of rural China and hiding in a small town's opera troupe. There he covers his prominent birthmark under a layer of face paint. In that same town lives Mousey (Yuen), a shy lad who scares easily. His best friend Foon (Leung Kar-yan) decides that the only way for Mousey to conquer his timidity is to study kung-fu under Wong Fei-hung (Kwan Tak-hing). Mousey proves to be tepid fighter in spite of Wong's best efforts. Yet after several run-ins with the sociopathic White Tiger, Mousey develops the gumption to stand up to this bloodthirsty bully. This film features some of the most influential and oft copied fight sequences in Hong Kong cinema, including Mousey's rigorous training/laundry detail scene and the film's hallucinatory climax taking place on the stage of a Chinese opera. ~ Jonathan Crow, Rovi
Critic Reviews for Dreadnaught
All Critics (4) | Top Critics (1) | Fresh (2) | Rotten (2)
A bizarre, imaginative kung fu film whose talented cast helps transcend its clashing generic conventions.
Rollicking kung fu with lots of humor
Film Journal International
Audience Reviews for Dreadnaught
½
Yuen Biao is brilliant in this martial art film. He's a coward that has the bad luck of being chased by a psycho that kills everyone who wears bells. As a laundry boy, he uses a method of kung fu to wash clothes, yet he doesn't know how to apply it on people. Highly recommended movie!
Eunice Madera
[img]http://images.rottentomatoes.com/images/movie/coverv/26/167526.jpg[/img] [font=Arial][size=3][color=#000000]A lion dance competition leads to two rival clans out for revenge against each other. The locals find themselves caught in the middle. One clan, the White Lions, hires a spurned assassin, a viscous serial killer, to slay members of their rival clan's men. This spurned assassin recently saw his wife murdered, was fired from his job, and has resorted to killing random peasants. Mousy, a man caught in the middle, must avoid the rival clans, make a living, and stay out of the serial killers path. When Mousy gets too deep in the middle, he may be the ultimate resolution to the quarrel. [/color][/size][/font] [font=Arial][size=3][color=#000000]"You look rough, but you're a coward. Wait until you meet my sister."[/color][/size][/font] [size=3][color=#000000][font=Arial]Woo-ping Yuen[/font][font=Arial], director ofTai Chi Master,The Tai-Chi Master, Iron Monkey, Fist of the Red Dragon, Fire Dragon, Wing Chung, Drunken Tai-Chi, Buddhist Fist, the Magnificent Butcher, Drunken Master, and Snake in the Eagle's Shadow, delivers Dreadnaught. Dreadnaught has a superb storyline that is intriguing, intense, and action packed. The choreography is stupendous, and the characters are wonderful.[/font][/color][/size] [font=Arial][size=3][color=#000000]"Clean my wife's underwear too!"[/color][/size][/font] [font=Arial][size=3][color=#000000]The opening fight with the six assassins, Biggie disturbing the actors, the lion dances, the sister punishing the brother for losing their money, the pole demonstration, the tension release method, the battle between the lions, the roach on the face sequence, Biggie being slain, the crime scene analysis, the measuring for a suit scene, the beat down of the marshal, the beating while taking a piss, the fight on the stage, and Master Haung to the rescue were amongst the better portions of the film.[/color][/size][/font] [font=Arial][size=3][color=#000000]"Take revenge if I die."[/color][/size][/font] [font=Arial][size=3][color=#000000]Dreadnaught is a surprisingly masterful film. The lion dance sequences are amongst the best I have ever seen. The storyline is unique, though all the fight sequences are not. Yuen Biao was excellent; however, luckily for him, he is not required to carry the picture. There is an array of superb characters and subplots that make the film intriguing and fascinating. I strongly recommend this picture for those who adore the martial arts genre, or for those dabbling their toe in the genre. This is a must have for your martial arts DVD collection.[/color][/size][/font] [size=3][color=#000000][font=Arial]Grade: A [/font][/color][/size]
Kevin Robbins
Dreadnaught Quotes
There are no approved quotes yet for this movie.
Discussion Forum
Discuss Dreadnaught on our Movie forum!