Dreamchild
(1985)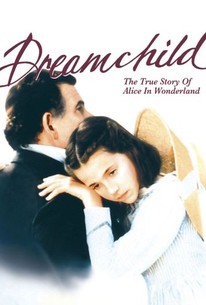 Movie Info
Irreverent British writer Dennis Potter speaks aloud what many literary historians have only postulated in whispers in Dreamchild. The film is set in 1932, on the 100th anniversary of the birth of Alice in Wonderland creator Lewis Carroll. The guest of honor at the New York-based celebration is 80-year-old Alice Liddell (Coral Browne), who as a child inspired Carroll's whimsical novels. Amidst the cajoling of both devoted fans and fast-buck hustlers, the grim-faced Alice tries to remain calm and dignified. What none of the idolaters suspect is that Alice harbors a long-suppressed secret concerning her "very special" relationship with Carroll -- a secret revealed in an extremely tasteful fashion during a flashback sequence, featuring Amelia Shankley as young Alice and Ian Holm as Charles Dodgson, the virginal, child-obsessed clergyman whom the world knew as Lewis Carroll. The darkness of Dennis Potter's vision is lightened by Muppeteer Jim Henson's marvelous three-dimensional renditions of the Wonderland and Looking Glass characters.
Rating:
PG (adult situations/language)
Genre:
,
Directed By:
Written By:
In Theaters:
Runtime:
Studio:
HBO Video
Critic Reviews for Dreamchild
Audience Reviews for Dreamchild
Fanciful subtlety is inventively explored in this remarkably ambitious film from small-screen director Gavin Millar, in his only foray into big-screen cinema.
Lee Mayo
½
Living up to it's title a dreamy film of the aged Alice's half memories of her childhood and Lewis Carroll interwoven with sequences of animated characters from the story and her present day, the 30's, trip to receive an honorary degree. Nice sense of time and place and a truly lovely performance by Coral Browne as the grownup Alice.
Dreamchild (1985) -- [6.0] -- A provocative film about the real 'Alice in Wonderland,' who at 80 years of age begins recollecting her memories of Lewis Carroll. Through flashbacks with Carroll (played by Ian Holm) and in twisted fantasy sequences featuring creations from the Jim Henson Creature Shop, Alice slowly comes to terms with something she never realized before -- that Carroll loved her. And I don't mean the way a father loves a daughter. The film explores the romantic obsession Carroll harbored for the little girl, which is apparently documented in some of the author's letters to family members. The subject is treated with subtlety and taste, but the movie has a hard time shaking its persistently sleepy atmosphere and languid pacing.
Scott Schirmer
Dreamchild Quotes
There are no approved quotes yet for this movie.