Rough Magik
(2000)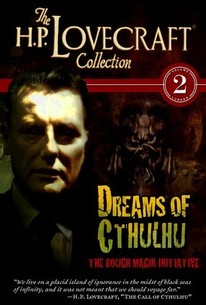 AUDIENCE SCORE
Critic Consensus: No consensus yet.
Movie Info
Rating:
NR
Genre:
Directed By:
On DVD:
Critic Reviews for Rough Magik
There are no critic reviews yet for Rough Magik. Keep checking Rotten Tomatoes for updates!
Audience Reviews for Rough Magik
The Rough Magik Initiative is not based on any particular Lovecraft story bu instead imagines a secret militia who are charged with the duty of protecting the world against the cult of Chtulhu. This film features a genuinely creepy opening and some profoundly Lovecraftian moments later on, but overall it suffers from a low budget and an inability to truly envision the struggle with the Cthulhu cults.
Al Miller
½
Upon my first viewing, I really did not care much for Rough Magik, but after seeing it a second time, it grew on me, I understood it better and caught more of it. One has to expect that a pilot episode for a series may not always be the best entry to a series, such is the case here, and with that knowledge, I was able to look at it in consideration of he potential it had.. and oh my.. what what potential! Rough Magik is actually fairly well told, and has some rather interesting characters and ideas, though it is bogged down some by the occasional camera shot so severe its almost comical, and a few points of overacting, however these moments can be easily overcome if you are willing to give the show a chance. I am sure had the series been picked up, it could have been a fascinating entry and addition to al already amazing universe.
Matthew Carey
½
I'm somewhat at a loss here. From the glowing reviews of this DVD I had expected something better--or at least something half way decent. What I got was a confused, jumbled, mess of a story that looked as though it had been made for television. Worse yet it seemed to assume that I was familiar with the backstory and so I was plopped down in the middle of all this with nothing to go on. At first it seemed as if it would be about ritual sacrifices that were taking place in order to bring back the great god Cthulhu, but then it switched tracks and decided that it was going to be about an organization that investigated such occurences and then it changed its mind yet again to tell (in flashback!) the story of a psychiatrist's encounter with an ancient Cthulhu worshipper during the Falkland Islands War! Thank God it was a short film! There were several other short films included on the DVD that varied in quality, half of which suffered from the usual problems film makers encounter when they try to update Lovecraft. THE TERRIBLE OLD MAN is a terrible failure and the less said about it the better. EXPERIMENT 16 and EXPERIMENT 17 (or was it 17 and 18?) fared better if only because they were shorter. They dealt with Nazi experiments with the Necronomicon. The most successful was FROM BEYOND which began with a voice over telling of the protagonist's history with Crawford Tillingast in very Lovecraftian language. But those brief bright spots don't really justify recommending this to anyone other than devout Lovecraft fans.
karen shaub
Rough Magik Quotes
There are no approved quotes yet for this movie.