Dreams
(1990)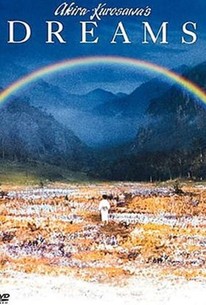 Movie Info
Following up on his critically acclaimed, blood-splattered epic Ran, master director Akira Kurosawa looks inward with this collection of eight brightly colored dreams. The first section centers on a young boy (Mitsunori Izaki), who witnesses a forest wedding procession of fox spirits in spite of his mother's (Mitsuko Baisho) warning. The second section concerns the same lad who converses with peach-tree spirits after the trees have been cruelly cut down. This is followed by a party of mountain climbers struggling to make it back to base camp in the midst of a terrible blizzard. The fourth dream deals with a man (Akira Terao) -- a Kurosawa stand-in complete with the director's trademark floppy white hat -- who encounters ghosts of Japan's militaristic past in a forlorn tunnel. In the following dream, the same man ventures into a Van Gogh painting called The Crows and meets the artist himself (Martin Scorsese). The sixth and seventh dreams venture into nightmare territory -- one deals with a nuclear meltdown that threatens Japan while the other concerns post-nuclear mutants. In the final dream, Kurosawa meets a 103-year-old man (played by Ozu regular Chishu Ryu) in a utopian rural village. ~ Jonathan Crow, Rovi
News & Interviews for Dreams
Critic Reviews for Dreams
Audience Reviews for Dreams
½
One of Akira Kurosawa's final films, this is a collection of eight short films, presented as dreams that were presumably dreamed by Kurosawa himself. All of them have something to do with life, death, human nature, and things like that, and have various themes such as environmentalism. While most are dreams, some are more like nightmares. None of them however, are lacking in wonderful imagery and gorgeous cinematography. You could watch this with the sond off and it might be just as effective, but would lose the nice music. Overall, I think this is a rather impressive film and the visuals blow me away. Storywise, I'm not quite as impressed because some of the segments aren't as good as the others, and the stories, while not bad, didn't really seem as strong as the visuals and costumes. I enjoyed watching this, and it gives the viewer a lot to think about, but it starts to drag and the pacing might be too slow for many. I don't feel I can be too hard on this though, as Kurosawa was 80 when he made it, and not in the best of shape. However, it might be the weakest film of his that I've seen so far. Even then though, it's still far better and more creatvie than most dreck that comes out these days, so take this as a small recommendation. Also, Martin Scorsese putting in an appearance as Vincent Van Gogh (complete with a decent makeup job) is a curious joy in its own right.
Chris Weber
Super Reviewer
½
it's a visual feast and ephemeral as dreams. i felt it fell off a bit in the second half
Stella Dallas
Super Reviewer
Still on the fence about which Kurosawa-era I enjoy more, his black and white world or the films in color that are some of the most impressive. Made of 8 short tales, each one presumably dreamt by Kurosawa, they are arranged in chronological order from childhood to old age. Themes range from childhood fears, sorrow of war, and accepting one's own mortality. Highlights include Village of the Watermills and Scorsese's portrayal of Van Gogh.
El Hombre Invisible
Super Reviewer
Dreams Quotes
| | |
| --- | --- |
| 103-year-old Man [Village Of The Watermills]: | Some say life is hard, but that is just talk. It is good to be alive, it is exciting! |
| | |
| --- | --- |
| Vincent Van Gogh [Crows]: | Yesterday I was trying to complete a self portrait. I just couldn't get the ear right, so I... cut it off and threw it away. |