Drop Dead Sexy
(2005)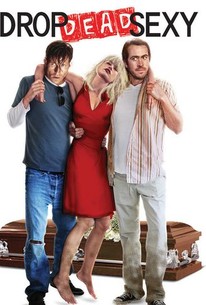 AUDIENCE SCORE
Critic Consensus: No consensus yet.
Movie Info
Just how far will some guys go to pay off a debt? Frank (Jason Lee) and Eddie (Crispin Glover) are a pair of inept would-be wise guys trying to scare up enough money to get out of the small Texas town they call home. They think their ship may have come in when Spider (Pruitt Taylor Vince), a local crime boss, offers them a big payday to drive a truck full of bootlegged cigarettes into Mexico. Frank and Eddie jump at the chance, but soon discover they're been made patsies in a scam when the truck turns out to have been booby-trapped, and by the end of the day they owe Spider a quarter-million dollars. Desperate to raise the cash, Eddie, a part-time gravedigger, hears that an exotic dancer with a rich sugar daddy has recently died, and was buried wearing a valuable diamond necklace. Frank and Eddie then hatch an elaborate scheme to exhume the stripper, swipe the necklace, and hold her remains for ransom. Drop Dead Sexy was the first directorial credit for writer and producer Michael Philip.
Critic Reviews for Drop Dead Sexy
There are no critic reviews yet for Drop Dead Sexy. Keep checking Rotten Tomatoes for updates!
Audience Reviews for Drop Dead Sexy
½
Jason Lee and Crispin Glover seem like they would make a great comedic pair, so I had hoped for and expected better. Instead the movie missed the mark altogether and is virtually unwatchable. (First and only viewing - In my mid-twenties)
Adam R
The words Weekend & Bernie's spring to mind but with a female Bernie. Lee and Glover totally save a terrible plot with some fine performances that the script does not deserve at all. Throw in Dourif and Taylor Vince and a sure-fire miss becomes oddly watchable despite a routine and obvious plot.
Mark Nash
What do you get when you put Crispin Glover in a role that is almost eccentric as he is? Thats right, you get an incredibly quirky, odd, little, comedy with plenty of "WTF" moments! Crispin stars as Eddie, along side Jason Lee, who stars as Frank, two small town losers who just can't seem to make it. Neither can keep a job for long, nor do they want to work real hard when they have one. So they turn to a life of crime to make some easy money and to hopefully start a better or new life. Eddie appears to be Frank's henchmen through out this flick, but only because Frank has all the good ideas (if you can call them that). After agreeing to deliever a truck full of merchandise for Spider (played by the amazing and talented Pruitt Taylor Vince) their truck manages to catch fire and blow up. Now they're in to the local mob boss for $250,000! After a series of bad ideas, they think it would be a good idea to dig up the recently deceased wife of a local millionaire and hold the body for ransom. Another series of events, some twists, some turns, and more bad ideas, lead our two theives to discover that the now dead wife may not have died the way everyone thinks! With the help of friendly twin strippers and a barmaid from the local strip club, they put together the pieces surrounding this very funny mystery. The actors are all very good here, especially the main stars. Crispin, as always, outdoes himself and makes the character ten times better than if it were someone else. He owns the character and nearly steals the spotlight. He might of, had it not been for Mr. Jason Lee. I've said it before, I'll say it many many times, Jason Lee can do no wrong! If he has, I clearly haven't seen it (which is impossible, since I've seen everything he's been in). Frank is another great character of Jason's, in the vein of Brody Bruce, Banky Edwards, Jay Murphy, Skip Skipperton and John Plummer (huh, Ross)! Those two cats have definite chemestry and I would love to see them together in another flick. Brad Dourif has a small but memorable cameo as the morgue attendent. Michael Philip makes his directorial debut from a very witty and talented script co-written by himself, John Benjamin Martin and Paul Doiron. If you enjoy a good mystery, with a little creepiness and lots of laughs, I think you'll "dig" this little independent flick. Haha, "dig" he said.
Shawn Bretton
Drop Dead Sexy Quotes
There are no approved quotes yet for this movie.
Discussion Forum
Discuss Drop Dead Sexy on our Movie forum!