Drug War
(2013)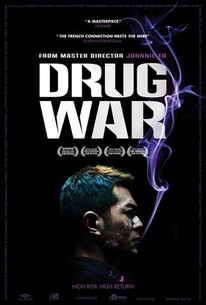 TOMATOMETER
AUDIENCE SCORE
Critic Consensus: A taut, solidly constructed action thriller with uncommon intelligence, Drug War delivers exhilarating set pieces without skimping on sophisticated filmmaking.
Movie Info
Manufacturing just fifty grams of meth in China will earn you a death sentence, and Timmy Choi (Louis Koo) has manufactured tons of it. After a violent lab accident, he's in the custody of Captain Zhang (Sun Honglei), and now he has only one chance to avoid execution: turn informant and help Zhang's undercover team take down the powerful cartel he's been cooking for. But as the uneasy allies are forced to compress months of police work into just 72 sleepless hours, the increasingly desperate police are quickly stretched past their limits. As things spin wildly out of control, the line between duty and recklessness is blurred, and it becomes unclear whether the cop or the criminal truly has the upper hand. (c) Variance
News & Interviews for Drug War
Critic Reviews for Drug War
Audience Reviews for Drug War
½
Foreign films tend to be far better than mainstream Hollywood releases because they have a take no prisoners attitude, they're more confident in the way they're filmed, and they are much more exciting than many other films released by big studios. That is very much the case with Drug War, a film that effectively blends kinetic action, drama and thrills into one picture. The acting here is top notch, with not one single bad performance, the direction moves at a face pace to move the action along, and it makes for a truly riveting, and engaging film experience. I felt that the action scenes were well done, and overall I was pleasantly surprised by how much Drug War was good. This is a very well crafted picture that is a must watch for any genre fan. The script is solid and the story is very good and it mixes thrills, action perfectly well into one picture that manages to stand out among the more mainstream Hollywood efforts. If you're tired of the same old action thriller, Drug War is a better outing, one that is refreshing and riveting from start to finish. I expected a standard actioner with this film, but I got a film that really went beyond the action and went in depth with its storyline and that made this a memorable picture to watch. The idea is simple, the filmmakers are able to get much more out of the concept because they keep you involved with enough thrills at every turn, and it makes for a truly tense, action packed roller coaster ride from start to finish. If you want a well crafted action film, Drug War is such a film, brilliantly acted, directed and with a good story, this is a memorable film to watch, and one not to be missed.
½
After his meth lab explodes, leaving him scarred and his wife dead, Timmy Choi (Louis Koo) is apprehended by the Chinese police for a crime that warrants the death penalty. In the custody of Captain Zhang (Sun Honglei), Choi sees only one option to avoid execution; turn traitor and help Zhang's undercover unit bring down the powerful cartel that he has been cooking for. As the stakes get higher, it becomes increasing unclear as to who has the upper hand, and who will dictate the endgame. Director Johnny To is a master of the crime film, and with "Drug War," he's created a near masterpiece of the genre. He never convinces us of being in anything but complete control of his multifaceted thriller, and exudes an unparalleled confidence in every scene and phenomenal set piece. To's electrifying picture recalls some of the best work of his great contemporaries. "Drug War" possesses the technical brilliance of Scorsese's "The Departed," the ground-level knowledge and surveillance of David Simon's "The Wire," the gritty realism of Michael Mann's best work, and by the end the blistering, double-fisted action of John Woo's prime. These elements don't come together as a derivative; To is a filmmaker at the top of his game, and makes the most of his cast, his influences, the Mainland setting, and a little of the grotesquerie that often has Hollywood shuddering; in a singular whole. Disparate from most Hong Kong action films, "Drug War" is a methodical, meticulous procedural first, exploiting a street-smart screenplay that knows the Chinese crime scene; and if that statement is indeed false, it never feels less than authentic. Much of the intensity derives from dialogue exchanges, and how rigorous both the cops and criminals try to not get made. Because of this well paced, equally well played dynamic, we never know who we should root for, and that's exactly the point. Mr. To's drama is incredibly intense... but then he pulls out all the stops. The last 20 minutes of "Drug War" is the show-stopping action set piece of the year. An extended shootout that's brutal, ambitious, and a masterpiece of it's kind. It's a marvel of physical filmmaking that also works as an unexpected plot device, violently flipping our conceived notions of these characters on their ear; clearing the way for a fittingly ironic, ice-cold conclusion. "Drug War" might just be the best pure crime film of 2013. Technically and narratively stellar, it already seems like a minor classic of the genre.
A drug kingpin falls into the police's laps when they discover him injured in a car crash, but can they trust the criminal's plan to save himself from execution by engineering a sting on his fellow cartel members? Superior police procedural with slick action sequences that hearkens back to the days of New Wave Hong Kong cinema, and explains why deaf-mutes make the best footsoliders in your drug army.
Drug War Quotes
There are no approved quotes yet for this movie.