The Drummer (Jin. gwu)
(2007)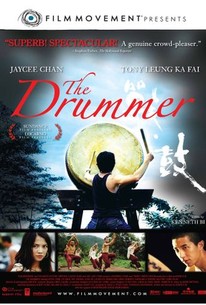 AUDIENCE SCORE
Critic Consensus: No consensus yet.
The Drummer (Jin. gwu) Videos
The Drummer (Jin. gwu) Photos
Movie Info
Sent away to rural Taiwan after entering into a forbidden affair with the daughter of his father's most dangerous rival, the musically gifted son of a powerful Triad boss experiences a newfound sense of balance in life upon entering into an apprenticeship with a Zen drumming troupe. Sid Kwan is a reckless musician who threatens to rock the entire underworld when he makes love to the beautiful Carmen. Carmen is the daughter of Stephen Ma, perhaps the most notorious Triad leader in the Hong Kong underworld. Should Carmen's father find out about the clandestine affair, the streets would likely be ablaze with gunfire, and Sid would certainly be the first to fall. Hoping that his son's life will be spared if he is out of sight, Sid's father sends the restless boy to lie low in rural Taiwan. Shortly after his arrival, Sid stumbles across a Zen drumming troupe who live and play together deep in the forest. Their passion and athleticism instantly mesmerizing to the entranced newcomer, Sid immediately asks if he might become a part of the unique community. While Sid's apprenticeship is at first straining, the clarity that he experiences after ingratiating himself to the community helps him make sense of the chaos that nearly consumed him back in Hong Kong and discover the peace that comes from owning up to his father's dark legacy.
Critic Reviews for The Drummer (Jin. gwu)
There are no critic reviews yet for The Drummer (Jin. gwu). Keep checking Rotten Tomatoes for updates!
Audience Reviews for The Drummer (Jin. gwu)
The power of music is revealed yet again through writer/director Kenneth Bi's imaginative tale of a gangster-in-training ... whose escape from crime-laden Hong Kong to the serenity of rural Taiwan is predicated by his ever-inquisitive hands.
Greg Wood
½
Finding a Rhythm Music can have a profound impact on how we see and experience our world, whether we learn to play it or learn to listen to it. This effect is hard to describe, it is like explaining how an epiphany feels. It is better to witness this effect first hand, of course if that can't be done, it can be shown through story telling. This is what the movie The Drummer does, it shows you how music effected a young man. The main character, Sid, is the son of a Hong Kong gangster, Kwan, whose hot tempered disposition ruined his marriage driving away Sid's mother. This left him and his sister Sina to grow up with their father's extreme moods. To cope with the loss of his mother Sid turns to drumming. However, Sid also acts out, much like his father and eventually gets his father into trouble with a more powerful member of the Hong Kong underworld. To protect his son Kwan sends Sid away to hide in Taiwan, not Taipei, the metropolis capital of the island, but out in the countryside. While staying there under the watchful eye of an older member of his father's gang, Ah Chiu, Sid discovers in the hills behind his house a group of drummers who practice Zen drumming. While it is Sids' love of drumming that motivates him to join the group, the presence of a firery young woman, Hong Dou, in the troupe doesn't hurt. Like Zen, the style of drumming portrayed in the film originally comes from China, but both were adopted by Japan. Many in the west are familiar with the large drums beaten upon with thick wooden sticks popularized by troupes such as Kodo, from Japan. To play such instruments takes a different kind of training, it is a full body work out, not counting on the mental training. To be apart of such a group, in the traditional sense, means a high level of commitment and discipline, things that Sid lacks. Sid is able to join these drummers and goes through a maturation process that helps him cross over into adulthood. This process is not without setbacks as Sid adjusts to the different lifestyle practiced by these monk like performers. He also has difficultly communicating to Hong Dou who he is as a person, which makes for some tension. He has to leave behind his Hong Kong ego and love of wealth and freedom and become a drummer. The performances in this movie are wonderful and real. Sid is played by Jaycee Chan who clearly shows his character go from cocky brat to intensely focused young man. Tony Leung Ka Fai plays Kwan and brilliantly shows the aggressive gangster who hides away a much softer side and deeper understanding of his faults and how they have effected his children. The actresses in this movie do a top job of being fierce fighters for their place in the world and defenders of the weak. It is the women who fill the strongest roles. Sids' sister, Sina, played by Josie Ho, is a veterinarian and stands up to her fathers wild anger to protect her brother and her choice of husband, never backing down. Hong Dou, played by Angelica Lee, is a disciplined young women with no fear, proven when she attacks Sid in a market area for being a bully. While the troupe is lead by a master drummer, it's run by a woman named Lan Jie, played by Liu Ruo-yu, who is pure example of Zen clam and determination. She is motherly to young Sid, but willing to put him in his place if needed. The movie is filled with memorable scenes and beautiful camera work. One of the most touching scenes is when Sid, who wants to perform for his father, plays his drums outside the walls of the prison his father is locked away in. There are picturesque shots of the Taiwanese countryside were the drummers practice. These scenes are shot in a way to suggest a protected area, not just the environment, but the art that is practiced there. Kenneth Bi seems to be saying there must be room in our lives for scared places and scared arts. Having always possessed a love for this style of drumming, because of its' highly meditative and intense nature, I was immediately interested in watching this movie. I was pleased to be given more than just a drum-line performance with some cheesy 'boy gets girl after learning to drum' story. I was pleased to see that Kenneth Bi's love of drumming and Zen go much deeper.
Shaun Brammer
½
A really cool movie with some bizarre dark moments but overall great visually and kinda sweet.
Sunil Jawahir
Super Reviewer
The Drummer (Jin. gwu) Quotes
There are no approved quotes yet for this movie.
Discussion Forum
Discuss The Drummer (Jin. gwu) on our Movie forum!