Drunken Master (Jui kuen)
(1978)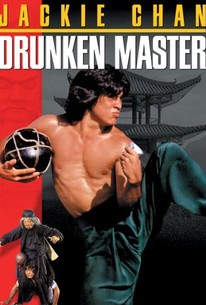 Drunken Master (Jui kuen) Photos
Movie Info
One of the earliest major films starring Jackie Chan, this 1978 Hong Kong offering highlights the relationship between a student and his martial arts master. This theme would dominate the American martial arts genre for years to come, as evidenced by The Karate Kid and many films to follow. Wong Fei-hong, played by Chan, is a 19th-century folk hero in Chinese culture and cinema, a kung fu master who fights injustice in the time of British colonialism. This character would later be portrayed by Jet Li in the more serious Once Upon a Time in China. Drunken Master finds Wong in his early years as a troublesome youth who is sent to receive discipline and martial arts instruction from his uncle (Siu Tien Yuen), the hard-drinking title character. Wong runs away, but runs afoul of some local villains. Beaten badly, he returns to his uncle, who trains him in "drunken-style" kung fu. The martial arts showcased by Chan in this film are important in the development of his career; the staggering, inebriated techniques allow for a looser, more flowing style, but more importantly, they contribute to the elaborate martial-arts slapstick that have become Chan's trademark and have made him an international star.
Critic Reviews for Drunken Master (Jui kuen)
Audience Reviews for Drunken Master (Jui kuen)
½
it is pretty silly but jackie chan is amazing. love the training sequences and especially the keep-away fight. it's like watching a dance film!
Stella Dallas
Super Reviewer
A relentlessly silly, ridiculous, familiar martial-arts yarn of a talented young kung fu artist (Jackie Chan) who is trained by an elder master in the correct ways in how to fight. Although it is overlong and gets tedious at times, this movie still succeeds for what it is just because of Chan's irrefutable likability and fantastic stuntwork. As said, it is super corny and you can't take it seriously at all, but it does relatively well for what it is trying to be. Skipable, but still worthwhile in parts.
Dan Schultz
Super Reviewer
im usually more into the epic or serious kung fu films than the comedies, but jackie chan's kung fu comedies are the cream of the crop and this is easily one of the best kung fu films ever. the training sequences are some of my favorites for any martial arts film, and chan's aerobics and constant movements are impressive. the film effectively blends 3 villains and features tons of fight scenes. truly excellent.
Drunken Master (Jui kuen) Quotes
There are no approved quotes yet for this movie.