Drunken Wu Tang
(1997)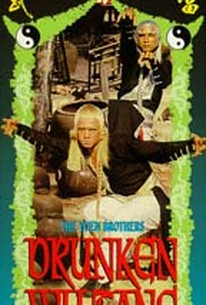 AUDIENCE SCORE
Critic Consensus: No consensus yet.
Movie Info
Rating:
NR
Genre:
On DVD:
Runtime:
Critic Reviews for Drunken Wu Tang
There are no critic reviews yet for Drunken Wu Tang. Keep checking Rotten Tomatoes for updates!
Audience Reviews for Drunken Wu Tang
Driving through the bleak states of the nation always sharpens my lust for the subcultural honey hole that is Austin. Not every place has an Alamo Drafthouse, where they serve up buckets of beer, scrumptious gourmet pizza, and kooky cult flicks like Drunken Wu Tang. After some frosty Lone Star and fabulous previews, the Alamo experience shifted to "Holy crap! What in hell is going on here?" If there's anything further off the wall than the plot of this movie, it's the subtitles. These must have been intentionally mangled for extra comic value. Even with a sensible translation, a pack of bloodhounds couldn't follow this story. But it went something like this… A buck-toothed wino with some street kung-fu goes on a quest to find a "cherry boy" (male virgin with special birthday) for the local monk house. The temple needs cherry boys for ah, um, a ritual. Along the way he gets hustled, shmoozed and attacked by various questionable characters. There's a hot chick gangster and her bumbling goons – including a huge fat lady with antenna hair who fights by spinning helicopter-style until she knocks down her opponent and sits on him. There's another hot chick who is screwing around on the ghost of her dead husband. Chinese voodoo causes her to romantically stalk the probably-gay wino, so he's dodging her the whole time. Then there's Old Devil, a kung-fu master and possibly evil spirit, who keeps showing up to kick everybody's ass. Back to the um, plot… the wino finds a cherry boy, but has to contend with the young man's grandma, a kung-fu witch who has her own plans for grand-sonny. She's training him in martial arts witchcraft so he can inherit the family "writ" – a bar of soap looking thing that everyone tries to steal. Deep within Granny's house full of trap doors, the writ is guarded by an inconceivably wacky monster. OK…. Who needs a plot when you've got the Watermelon Monster! Translation: "banana monster" – get it? This hideously cackling, dick chomping, overgrown bowling ball was like Phantasm meets Jaws and Chucky and Barney in your worst castration nightmare. Everyone must seek out this movie if only to hear the voice of this giggling demonic Chinese Bozo. Kung-fu theater fans will find satisfaction here, too. The endless brawling reveals many inventive fighting styles. The action is splattered with spontaneous levitation (a technique made popular recently in some over-polished turd of a film). There's the Three Stooges school of drunken boxing, and the fat flinging. Then there's pink silk kung fu – where the hot chick gangster shows up to kick everyone's ass with her magic sash that zooms through the air, snakes around people and cuts them. We even got BONG-FU! During a dangerous scrapple with Old Devil, Granny grabs a bong, fires it up to make a smoke screen, and bonks him on the head with it. Drunken Wu Tang is a high-speed crack up, with bags full of goodies for the A.D.D. viewer. But seriously, more significant is its social aesthetic, with a gender humor that is far more sophisticated than the "values" (depressing, cheaply veiled misogynist horseshit) glorified in movies like, say, Kill Bill. :D
Beky Hayes
Drunken Wu Tang Quotes
There are no approved quotes yet for this movie.