Du Barry Was a Lady
(1943)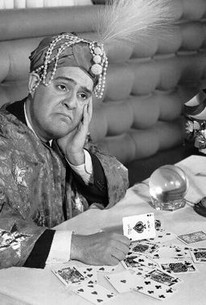 AUDIENCE SCORE
Critic Consensus: No consensus yet.
Du Barry Was a Lady Videos
Du Barry Was a Lady Photos
Movie Info
The racy, ribald Cole Porter musical Du Barry Was a Lady is here given a thorough dry-cleaning by prudish MGM. Richard "Red" Skelton takes over the role of Louis Blore (played on Broadway by Bert Lahr), while Lucille Ball steps into the shoes of the original play's Ethel Merman. The story proposes that Blore is a men's room attendant in a New York nightclub who has a yen for gorgeous showgirl May Daly (Lucille Ball). After drinking a potent mixture, Louis dreams that he is King Louis XV of France, and May is the magnificent Madame Du Barry. Also showing up in Louis' dream is Alex Howe (Gene Kelly), who in "real life" is the guy who ends up with May at fade out-time. It's hard to determine what's more fun to watch in Du Barry Was a Lady: the three stars, the antics of supporting player Zero Mostel, or the incredible sequence in which Tommy Dorsey & His Band -- including drummer Buddy Rich -- perform in 18th century garb and powdered wigs. Five of the original Cole Porter songs are retained for this Technicolor-ful film: "Katie Went to Haiti," "Do I Love You, Do I?," "Well, Did You Evah?," "Taliostro's Dance,", and, best of all, "Friendship." ~ Hal Erickson, Rovi
Critic Reviews for Du Barry Was a Lady
All Critics (1) | Fresh (0) | Rotten (1)
Hollywood ruined another wonderful Porter effort by cutting out most of his songs from the stage production.

Ozus' World Movie Reviews
Audience Reviews for Du Barry Was a Lady
½
In Honor of Lucille Balls 100 Bday, they rocked her Movies this last weekend, & I have decided this was my Favorite Lucille Ball Film.The Extrordinary Costumes alone would get my vote, but I learned something about my(Our) Beloved Lucy~ She can SING (who knew?), & Dance, & was very beautiful & glamorous when she was young.A Magical Fantasy Musical Love Story with Lucy & Gene Kelly, be still my Heart! A Lovable Kooky Celebrity, Red Skelton,is slipped a Mickey & dreams that he's King Louis XV of France & that the Showgirl ,May(Lucy), is his Mistress Madame Du Barry, which causes problems for the Poor but talented Alec (Gene Kelly).It's a bit predictable, but it reminds me so much of a Ziegfield Production with it's over the Top Costumes & Beauty that meets The Wizard of Oz Dream Fantasy, that I can't help but adore it.Stars like the one & only Lucy,dancing Gene Kelly,Comic Relief such as Zero Mostel, Louise Beavers, & the Comic Genius of Red Skelton are but the Cherries on the Cake Top of a Very Lovely & Whimsical Musical .I use to tell everybody I Sing & Cry like Lucy(the "I Love Lucy" Lucy is horrible), now I will forever wish that I could sing like Lucy in this Movie.
Marilee Aschwanden
I think "2 hours of Arthur Freed fluff" adequately describes this film. a pretty cookie-cutter musical comedy story that unfortunately feels forced in both the music and the comedy. you couldn't ask for a much better cast, they just unfortunately weren't given much to work with. it's a very light and overall entertaining movie that has a ton of selling points, you just don't get a whole lot of bang for your buck.
Brian Schnell
Copying movies like Wizard of Oz, the character in this movie dreams he is King Louis XV. This movie is silly and predictable, I don't recommend it.
Du Barry Was a Lady Quotes
There are no approved quotes yet for this movie.
Discussion Forum
Discuss Du Barry Was a Lady on our Movie forum!