Duane Hopwood
(2005)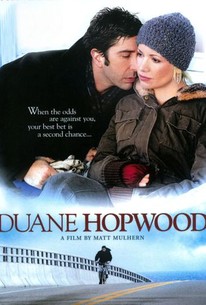 Movie Info
A sad sack has to come to term with his own demons after a long run of bad luck in this downbeat comedy drama from writer and director Matt Mulhern. Duane Hopwood (David Schwimmer) lives and works in Atlantic City, where he's a pit boss on the night shift at one of the city's resort hotels, and has a wife, Linda (Janeane Garofalo), and two young daughters, Mary (Ramya Pratt) and Kate (Rachel Covey). Duane also has a drinking problem, and while Linda loves him very much, she's begin to wonder if he's still capable of living up to his responsibilities as a father. The final straw comes when Duane gets arrested for drunk driving while Kate is in the car with him; Linda files for divorce, and the court opts not to give Duane visitation rights. With Duane struggling to hold on to his family, he gets more bad news when he loses his job after he's caught giving money to an argumentative customer to shut him up. With only his friends from work to keep him company -- Anthony (Judah Friedlander), a maintenance man who wants to be a comedian, and Gina (Susan Lynch), a kind-hearted bartender -- Duane realizes he's come to a crossroads where he has to get his life back on track before he loses what little he still has left. Duane Hopwood also features supporting performances from Dick Cavett and Jerry Grayson.
Rating:
R (for language.)
Genre:
,
Directed By:
Written By:
In Theaters:
On DVD:
Runtime:
Studio:
Critic Reviews for Duane Hopwood
Audience Reviews for Duane Hopwood
It's an indie flick that If I were an actor, would wish every other independent movie would turn out like and would be so worth my time filming in between big money motion picture deals. Such a real performance by David Schwimmer along with an authentic plot that could only be written by someone who has been there and done that. This indie picture is worth it and was a solid effort by everyone involved.
Steve Scully
½
For Fans Of: Miscasts, Drunk Dads, Sad bastards Date Night: No Art Factor: None Fun Factor: Low Emotional Factor: Low Intelligence Required: None Essential Viewing: No I did not have high expectations going into this one. That is a good thing. Schwimmer, of Ross Gellar fame, plays a down on his luck drunken dad. Now, just picture pretty much every cliche you can that should be in this film and apply. The ending, was the only part not a filmed cliche and for that this film earned back a bit of respect from me. David Schwimmer is not a terrible actor, he just isn't a great one and this role really need a better than good one. Judah Friedlander has a small role that is pretty unmemorable as is a pre Office fame John Krasinski. The latter plays an athletic Jersey type guy. Miscast much? Janeane Garofalo does however give one of the better performances of here pretty much non existant career. Direction wise it looks like a well shot hallmark. Nothing flashy, but nothing wrong. That right there knd of sums up the score on this one. Nothing flashy, nothing wrong. Very middling.
Michael Clark
½
DAVID SCHWIMMER, JANEANE GAROFALO, JUDAH FRIEDLANDER, JOHN KRASINSKI, STEVE SCHIRRIPA David Schwimmer stars as Duane Hopwood, a down-on-his-luck divorced father who works the night shift as a pit boss at Caesars Palace in Atlantic City. Heartsick about the demise of his marriage to Linda (Janeane Garofolo), Duane does nothing much in his daily life but work and drink. When his visitation rights are threatened after he's caught driving while intoxicated with his daughter in the backseat, Duane confronts the realization that the time has come to get his life back on track before he loses everything. There are a lot of mixed reviews on this movie. I happened to like it. I wouldn't say enjoy, cause the movie is depressing and sad. But David Schwimmer is really, really, really good in this movie. He blew me away with his performance. First movie I have ever seen him in, and I will admit I was afraid I couldn't separate him from his character 'Ross' from the t.v. show 'Friends'. But there was no "Ross" in his performance. He was great. It's a very real, raw, and honest movie. Definitely not your feel good type movie. But one that will have you sympathizing with the characters, or even relating to them. The ending is bitter sweet. This story might touch home for a lot of people. It's a well done movie and I hope more people see it.
♥˩ƳИИ ƜѲѲƉƧ♥
Super Reviewer
Duane Hopwood Quotes
There are no approved quotes yet for this movie.
Discussion Forum
Discuss Duane Hopwood on our Movie forum!