Dude, Where's the Party?
(2003)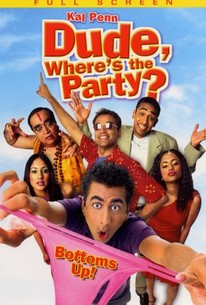 Dude, Where's the Party? Videos
Dude, Where's the Party? Photos
Movie Info
Before leaving India for college in Houston, Hari (Sunil Malhotra) consults an astrologer, who tells him that he'll meet the woman of his dreams there, that her name will begin with a "P," and that she'll fall from the sky. Hari moves in with friends of the family, the Bakshis, and meets Mo (Kal Penn of American Desi), their slacker son. Mo is a fully assimilated ABCD (American Born Confused Desi), and while he's proud to be Indian, he's ashamed of his socially inept FOB (Fresh Off the Boat) "cousin," who wears clashing outfits, puts coconut oil in his hair, and speaks with a heavy accent. At school, Hari meets Priya (Tina Cherian), a ditzy beauty who literally falls into his lap. Hari is quickly convinced that Priya is the girl the astrologer told him about, and he offers to tutor her in math. Mo is smitten with Janvi (Serena Varghese), a student filmmaker. She's making a video about what it means to be South Asian in America, and Mo invites her to one of the "Desi Fever" parties he promotes. The evening turns into a disaster when Janvi films Ray (Prem Shah), the radio personality who runs the party, rudely kicking out an FOB, Sham (co-screenwriter Sunil Thakkar), and Ray smashes her tape. While Hari is determined to help Mo win back Janvi, Mo won't even tell Hari about the next exclusive party he's promoting, which Priya is sure to attend. Where's the Party, Yaar? was based partly on Thakkar's experiences as a DJ and party promoter in Houston. The film was helmed by music video director Benny Mathews and features the music of Panjabi MC and Cornershop. It was shown at the 2003 Rhode Island International Film Festival.
Critic Reviews for Dude, Where's the Party?
Audience Reviews for Dude, Where's the Party?
I-to my surprise-liked this film, i didn't love it, but i didn't cringe in my seat while watching it. I thought the film was a well structured piece of cinema, Kal Penn is very good in this film, switching between a "Suave Cool Guy", to a "Inconsiderate Douche bag", back to a "Like able Straight Man" The only thing that bothers me servilely is that Some of the main characters are left out of the poster & are replaced by Minor Characters. It found it humorous, quirky, corny, but a lot of fun! Check it out, its pretty cheap to find now a days. 3.7/5
Josh Surratt
A low-budget spoof on the outrageous storylines, colors, and dancing in Bollywood films. There isn't much to the plot--it's a predictable boy-meets-girl story in which boy must win back girl's heart. However, hilarious references to Bollywood films make this movie an amusing watch. The jokes and stereotypes about Indian-Americans and Indian immigrants to the USA push the envelope and are very entertaining.
j.j.s.p. w.
I saw this movie YEARS ago but to this day, my best friend and I still bring up lines from the movie and crack up about it. Especially everytime we see a desi guy with long hair at the local desi dvd store. Its just one of those low-budget just-for-a-good-laugh movies but you gotta love it!
Rupa Blank
Dude, Where's the Party? Quotes
There are no approved quotes yet for this movie.
Discussion Forum
Discuss Dude, Where's the Party? on our Movie forum!