Duel in the Sun
(1946)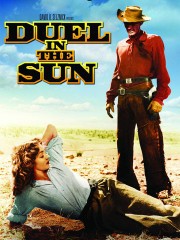 Tickets & Showtimes
Duel in the Sun Trailers & Photos
Movie Info
In this film, Jennifer Jones stars as half-breed Pearl Chavez, whom everyone has tagged as a "bad girl." She is taken into the home of wealthy, greedy rancher McCanles. Almost immediately, Pearl becomes the object of an emotional tug-of-war between McCanles' virtuous son Jesse and wicked ne'er-do-well offspring Lewt.
more
Cast
News & Interviews for Duel in the Sun
Critic Reviews for Duel in the Sun
Audience Reviews for Duel in the Sun
Chris Weber
Super Reviewer
½
well, after making fun of this for years, i finally watched it and it was pretty damned entertaining. jennifer jones pulls some weird faces and tiomkin's score is too bombastic as usual, but it kept me interested throughout. i don't get the allegations of racism here. do people think no one ever used the word halfbreed? that ending is still pretty silly but easier to take in context
Stella Dallas
Super Reviewer
½
David O. Selznick's misguided attempt to recreate the success of GWTW in a western setting. The film has pleasures to be sure but also some woefully terrible parts. On the plus side: the cinematography is gorgeous and some of the supporting performances are good, Lillian Gish and Charles Bickford come off best. However there are some fatal flaws: a meager story to pin two and a half hours of film on and an overly earnest tone are two big deficits but what really hurts the film the most is the complete miscasting of the two leads. Gregory Peck was a fine actor but he was also an icon of resolute decency, whereas other actors with that persona like Henry Fonda could occasionally play a villain convincingly Peck could not. His casting alone would not be so bad if it wasn't paired against the absurdity of Jennifer Jones as Pearl. While I'll admit to never being a fan of hers within a limited range she could be an okay actress when the role wasn't too demanding, for instance The Towering Inferno. Pearl Chavez is far outside that scope, the part isn't really that good to begin with, even an actress as skillful as Vivien Leigh would probably been hard pressed to make her real although Ava Gardner with her raw sensuality could have made her work, but Jones mistakes over emphasis with depth and Vidor's florid style of direction doesn't help her. Part of the blame probably rests with Selznick's famed smothering control and that fact he was determined to make Jones the greatest of all stars which resulted often in putting her in material for which she was not suited and away from her strengths as a performer. The film is entertaining in an often campy way but one viewing should be enough.
Discussion Forum
Discuss Duel in the Sun on our Movie forum!
News & Features