Dumbo
(1941)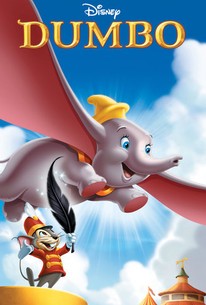 TOMATOMETER
AUDIENCE SCORE
Critic Consensus: Dumbo packs plenty of story into its brief runtime, along with all the warm animation and wonderful music you'd expect from a Disney classic.
Movie Info
The shortest of Disney's major animated features Dumbo involves a baby elephant with unusually large ears. Ostracized from the rest of the circus animals, poor Dumbo is even separated from his mother, who is chained up in a separate cage after trying to defend her child. Only brash-but-lovable Timothy Mouse offers the hand of friendship to Dumbo, encouraging the pouty pachyderm to exploit his "different" qualities for fame and fortune. After trepidatiously indulging in a vat of booze, Dumbo awakens in a tall tree. Goaded by a group of jive-talking crows, Dumbo discovers that his outsized ears have given him the ability to fly. The musical score by Frank Churchill and Oliver Wallace won Oscars for them both.
News & Interviews for Dumbo
Audience Reviews for Dumbo
½
The box office failure of Fantasia prompted Disney to make this much simpler animation that relies more on characters and feelings, and it has a very beautiful story (despite some ethnic stereotypes) about rejection and how one's "defect" ends up being what makes one so special.
Carlos Magalhães
Super Reviewer
For all of the buildup and story that this film brings to the table, it's too short and feels a tad rushed to get to the point by the end, while disregarding main plot points that were developed during the first half of the picture. Sure, it's meant to be kids entertainment, and in that respect, it definitely pays it's dues, but overall, it made itself out to be more than what it actually is. This film has a wonderfully scripted storyline, but was poorly executed by a short running time. I would have liked to see everything unfold rather than have such a quick and happy ending handed to me. "Dumbo" should have been better than what it is!
Dumbo is a terrific Disney classic and is among the best films that the studio has produced. Brilliantly animated and directed with a great cast, Dumbo is a fun, sad film that will appeal to people of all ages. That's the great thing about this film. This is a great film that I grew up with, and is certainly a classic Disney offering. Although it has a few flaws, Dumbo succeeds at being a fun, entertaining film for viewers of all ages. This is a well put together film from start to finish. You're sure to enjoy this film if you love previous Disney outings and this is yet another stellar classic. The cast are wonderful and each brings something special to the screen to bring the characters to life with the great voice performance each one gives. This is among the most popular Disney title and it's easy to see why. A very enjoyable flick for the whole family, it has something that anyone is sure to enjoy. Dumbo is a flawed film, but nonetheless it is still a memorable film in Disney's catalogue. Despite its slight imperfections, Dumbo is an accomplished animated feature and like I've said before is sure to please Disney fans of all ages. This is a must film and is among Disney all time greatest classics. This was when Disney was making cinematic gold and it shows. A superb film that is sure to demand multiple viewings. This was Disney making great films ands Dumbo is a wonderful film that will capture your imagination from start to finish.
Dumbo Quotes
| | |
| --- | --- |
| Stork: | Happy birthday to you a happy birthday too you. Happy birthday a dear...a dear. Dear me what's his name? |
| Stork: | Happy birthday to you a happy birthday too you. Happy birthday a dear... a dear. Dear me what's his name? |
| Elephant: | Jumbo...Junior |
| Elephant: | Jumbo. Junior. |
| Stork: | Oh Jumbo Junior huh? Jumbo Junior. Happy birthday a dear a Jumbo Junior. Happy birthday. Toooooo *gasp* yoooooou. |
| | |
| --- | --- |
| Ringmaster: | And now comes the climax! |
| Clown: | Uh boss. What is the climax? |
| Ringmaster: | I don't know. |
| | |
| --- | --- |
| Jim Crow: | I think I will have seen everything when I see and elephant fly. |