Duo Shuai (Fatal Move)
(2008)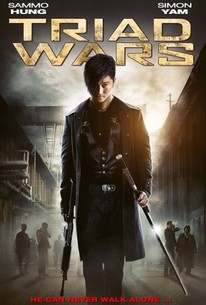 AUDIENCE SCORE
Critic Consensus: No consensus yet.
Movie Info
As the streets of Hong Kong erupt into violence, a ruthless Triad crime boss (Sammo Hung) and his gang must fight to maintain control of their empire, and avoid winding up on the wrong end of their enemy's guns following a botched drug deal and a bloody kidnapping.
Critic Reviews for Duo Shuai (Fatal Move)
There are no critic reviews yet for Duo Shuai (Fatal Move). Keep checking Rotten Tomatoes for updates!
Audience Reviews for Duo Shuai (Fatal Move)
½
It's fast, slick, violent and beautifully choreographed. This Hong Kong crime film brings plenty of violences and it's indeed relatively bloody, even if much of the gore is cheap CGI. The body count is impressive and the range of physical outrages quite extensive, including one torture scene where Simon Yam not only say it's pain time, but also does most of the inflicting in person. The last fight between Wu Jing, and Sammo Hung was the only mindless battle, but if you have two such talent, you'd be remiss as a writer not to include this fight scene. Danny Lee plays the usual cop role since I last saw him in 1989's The Killer, and Taiwanese actress Kelly Niu shows that she still looks great on the big screen.
Dean McKenna
Super Reviewer
½
An excellent cast and certainly no slouch in the action and gore (Kill Bill gets owned by this one in terms of blood and body parts) but this particular gangster film is not quite as polished as Election or SPL.... don't know why, but maybe because it does take things over the top. Nevertheless, its bold, a twist in the story lines and a change pace from good vs bad, as the Triad faces destruction from within, and the cops are circling, waiting for the final takedown to destroy the all powerful gang. Acting is superb, veterans Sammo Hung and Simon Yam lead the way once again, as two brothers and leaders of the ill fated Triad, supported by a young cast with deadly expertise. A hard hitting thriller of trust and betrayl and blood, watch it if you enjoyed the other Hong Kong gangster films, which usually are some of the best these days.
½
Fatal Move is another Hong Kong crime thriller from Dennis Law. Speaking of Dennis Law, he and Johnnie To are the ones that put out these types of films pretty often. Unfortunately, at this point in time, Dennis Law's films aren't up to par with To's.
The story is long and drawn out with more focus on the internal problems between the Triad societies, rather than their problems with the cops. The cops do play an integral role though. There are a bunch of characters to follow, however the buildup isn't that interesting, which makes for a pretty bland movie. The earlier parts of the film don't feel like part of the big picture, until things start to come together in the latter parts. Still, that doesn't make the beginning any better.
There is quite a bunch of action and it is pretty bloody, especially when Wu Jing is going around hacking tons of body parts off with a sword. The shootouts are pretty entertaining, albeit nothing out of the ordinary. The long finale, that pushes this film out to just under 2 hours, includes an unnecessary fight with Sammo Hung and Wu Jing. However, this fight is the highlight of this entire picture.
The typical Hong Kong crime cast shows up in this movie, which makes the acting good. Once again, Simon Yam is worth noting.
Fatal Move isn't a waste of time, but it isn't anything to rush out and see. Be patient with this one.
Duo Shuai (Fatal Move) Quotes
There are no approved quotes yet for this movie.
Discussion Forum
Discuss Duo Shuai (Fatal Move) on our Movie forum!