Dust
(2003)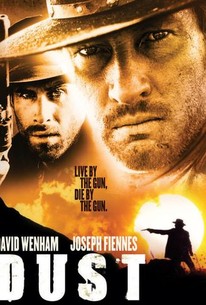 Movie Info
Following up on his acclaimed debut After the Rain, Milcho Manchevski spins this ambitious, and unusual, Balkan western. The film opens in New York with an old woman, living in a crammed apartment full of old photos, who outwits a burglar and forces him to listen to her stories. She recounts the saga of Luke and Elijah, a couple freewheeling cowboys during the heyday of the American West. A fight over a whore named Lily ends their friendship; Elijah marries her while Luke turns into an embittered bandit, travelling the world. He eventually settles in with some cattle rustlers in Macedonia. Improbably, Luke and Elijah cross paths again, and soon after a complicated series of flukes and misadventures, end up embroiled in the Turks brutal attempts at maintaining control of the peninsula. This film was screened at the 2001 Toronto Film Festival.
Rating:
R (for sequences of strong violence, sexual content, and language)
Genre:
, , ,
Directed By:
Written By:
In Theaters:
On DVD:
Runtime:
Studio:
Lions Gate Films
Audience Reviews for Dust
½
This is a very misunderstood movie and quite wonderful. It is not as good as Manchevski's brilliant "Before the Rain" but is an intelligent movie, made for intelligent viewers. Manchevski does not adhere to the laws of physics and his movies use time brilliantly. The result is quite lyrical.
carlina fox
Essentially, the story is of a burglar (Lester) who breaks into a house of an old woman (Murphy) in New York and she tells him the story of American cowboys (Fiennes and Wenham) in the Ottoman Empire in Macedonia and their tangled fraternal love/hatred when confronted with a beautiful woman. It's a story that dips in and out of narrative timelines. David Wenham and Joseph Fiennes play two cowboy brothers that wind up in Macedonia, fighting on different sides in a bloody conflict between the Macedonian natives and the oppressive Ottomans. Luke fights on the Ottoman side because they pay in gold, Elijah on the Macedonian because they are the right side. There are many bloody scenes here and it is one thing that I don't like with this film. The overall carnage gets too exhausting, simply put. And there is no real thrill in it either, except for the villains getting killed. The parallel stories intertwining aren't nearly as effective here as in "Before the rain". The plot with the black burglar and the old woman is weak and ineffective. Only the dramatic relationship between Luke (Wenham)and Elijah (Fiennes) and their rivalry over the beautiful and headstrong Lilith (unknown but solid actress) is what makes this film interesting and worthwhile. Wenham gives a really powerful performance here and even overshadows both Fiennes and the rest of the cast. Well worth watching.
Danielle S
This one didn't quite work for me. The visuals were beautiful, but the story was too fantastic for me.
Aaron Stark
Dust Quotes
There are no approved quotes yet for this movie.