The Dust Factory
(2004)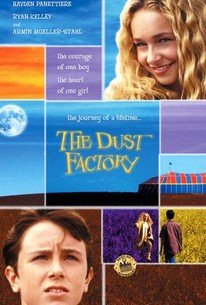 Movie Info
An adventure tale about the love and friendship between two teenagers who help each other through a difficult time in their lives. Ryan Flynn is a wondrous young boy who hasn't spoken since witnessing his father's death at the age of nine. Now thirteen, Ryan has a near fatal accident when he falls from a bridge and is magically transported to a fantasy realm known as The Dust Factory (a place that mirrors his fear of mortality). In this strange yet familiar world, Ryan meets Melanie, a precocious young beauty, who steals his heart. Together they embark on a journey where they face their fears and develop a friendship built on trust and love. Ultimately, Ryan faces the challenge of finding his way home.
Critic Reviews for The Dust Factory
Audience Reviews for The Dust Factory
Just believe before you look. Ryan was involved in a horrible accident one day that left him scarred and a bit of a recluse. He doesn't like to hang out with other kids and he doesn't talk much, only to his friend Rocky. One day is grandmother dies and he starts thinking if that is the easy way out of his troubles. His grandfather tells him a tale of The Dust Factory where he mentally escapes and ultimately may help him deal with his problems. Once in the Dust Factory he meets a girl, Melanie, who teaches him he'll need to leap to live life and not just let it pass him by. "If there wasn't a God...that would be harsh." Eric Small, director of the 10,000 Days television series and the upcoming 10,000 Days movie, delivers The Dust Factory in his directorial debut. The storyline for this picture is a bit eccentric but definitely fun to watch unfold. I did enjoy the characters but the dialogue was a bit plain. The settings were cool and unique and the acting was pretty good. The cast includes Peter Horton, Armin Mueller-Stahl, Hayden Panettiere, Ryan Kelley, Kim Meyers, and Michael Angarano. "Grandpa doesn't even know that grandma is gone." I grabbed The Dust Factory off Netflix as a movie my daughter and I could watch together. Unfortunately, she's only 5 and this was about to fall off Netflix online so we watched it last weekend (she wasn't overly interested and probably felt this was a "daddy movie"). I will say the ultimate evolution of the main character was worth following but the overall film was very average and kind of blah. I do recommend watching this once, but this isn't on the level of My Girl or Stand by Me. "I'm definitely not big on jumping." Grade: C+
Kevin Robbins
½
Two charming kids and the boy's grandfather spend time in limbo between life and death. It is a strange fantasy world that seems free of trouble except for a creepy circus, which is named the dust factory. The youngsters amidst falling for each other are forced to confront some philosophy about life and death, pleasure and pain. Some of it is thought-provoking. Many of the special effects suggest a fantasy world I've never seen before in a movie, but it is obvious the effects had a low budget. Artistically it seemed the writer/director thought they were being clever dealing with these deep issues, but I was uncomfortable with the death themed circus and many of the grandfather's lessons were nonsensical.
Byron Brubaker
Super Reviewer
I'm not entirely sure that anyone really learned a valuable lesson in this movie, wow you started to talk again big deal. And the other world was really strange if you ask me, I think if I were them I'd be a little creaped out and wanna leave instead of wanting to stay so bad. But whatever, it was okay I guess.
Sarah Helwig
The Dust Factory Quotes
| | |
| --- | --- |
| Grandpa Randolph: | Dust is a funny thing. It's everywhere all at once, like a teeny, tiny snowstorm, in every ray of light. Even the moon is just a big dust ball. But you know, it's all in the way you look at it. Not this way or that way, not forways or backways. Just believe before you look. The man in the moon has a magic all his own. |
Discussion Forum
Discuss The Dust Factory on our Movie forum!