Dynamite Warrior
(2007)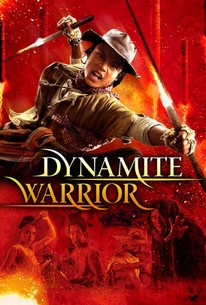 Movie Info
After seeing his parents viciously murdered by a mysterious, tattoo-covered killer, a grieving young man named Zieng (Born to Fight's Dan Chupong) vows to avenge their tragic deaths in this action-packed martial arts extravaganza produced by Ong-Bak's Prachya Pinkaew and featuring stunts by Panna Rittikrai. When Zieng learns that the murderous maniac who slew his parents also runs with a nefarious group of cattle rustlers, the righteous martial artist's mission of vengeance takes on the larger task of stopping the group's illegal activities and ensuring that each head of cattle is delivered back to its rightful owner.
Critic Reviews for Dynamite Warrior
Audience Reviews for Dynamite Warrior
This is a pretty wild film with subject matter all over the place. An early try at trying to make a bad film good by the use of a herpo who uses fireworks and dynamite to round up and defet the bad guys, South Koreas answer to Robin Hood. 2 Stars 4-1-12
Bruce Bruce
Super Reviewer
Some nice action Scenes and tiny bit of Fantasy but I think over all it was a boring Movie.
Amazing and entertaining supernatural and action packed movie to set in a 1890's with high-grade special effects and the kind of raw action scenes the world is coming to expect from Thailand. I used to remember Thai actor/stunt Dan Chupong when I last saw him in Born to Fight at the first time.
Dean McKenna
Super Reviewer
Dynamite Warrior Quotes
There are no approved quotes yet for this movie.