Dysfunktional Family
(2003)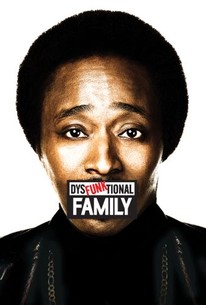 Dysfunktional Family Photos
Movie Info
Comedian Eddie Griffin delivers a set of his outrageous standup comedy and introduces his fans to the family who helped inspire his work in this documentary. In DysFunKtional Family, Griffin talks about race, sex, cats, dogs, slavery, terrorism, Michael Jackson, and several of the more eccentric members of his family during a sold-out live show. In between bits, Griffin takes us on a tour of his home town of Kansas City, where we get to meet his mother, who has a remarkable enthusiasm for corporal punishment; his uncle, who discusses his remarkable enthusiasm for pornography; and another uncle, who proved to be an invaluable help to Griffin's early career despite his drug habit and career as a pimp. DysFunKtional Family was directed by George Gallo, who previously worked with Griffin on the comedy Double Take.
Cast

Critic Reviews for Dysfunktional Family
Audience Reviews for Dysfunktional Family
I thought this comedy special was going to be downright hilarious. While it had some funny moments, Dysfunktional Family disappointed. It was too reliant on racial humor, something that all black comics seem to fall back to if they run of other material. However, it's all racial humor I have heard before from Eddie Murphy, Richard Pryor, and Chris Rock. The 9/11 bits were OK but not as funny either. The best part of the documentary were about his crazy uncles and his white grandfather. True life is always funnier than observational humor. I am still a big Eddie Griffin fan but I think he is capable of doing much better than this.
Christopher Staaf
½
its hilarious . Its eddie griffen what do you expect?IT has a interesting twist, he talks about his family in his stand up and shows clips of them in the show. His Prince impersonation had me dying.
Jarrette Patterson
Dysfunktional Family Quotes
There are no approved quotes yet for this movie.
Discussion Forum
Discuss Dysfunktional Family on our Movie forum!