Early Man
(2018)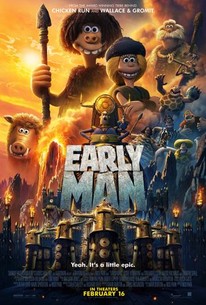 TOMATOMETER
AUDIENCE SCORE
Critic Consensus: Early Man isn't quite as evolved as Aardman's best work, but still retains the unique visuals and sweet humor that have made the studio a favorite among animation enthusiasts.
Movie Info
In this stop-motion animated comedy set in prehistoric times, a tribe of primitive hunters are displaced from their homes by emissaries from a distant empire that has mastered bronze-making. However, a tribesman named Dug (voice of Eddie Redmayne) tries to win his home back by challenging the invaders to a game of soccer. Directed by Nick Park, best known as the creator of the beloved animated duo Wallace and Gromit. Tom Hiddleston, Maisie Williams, Timothy Spall, and Richard Ayoade also lend their voices.
News & Interviews for Early Man
Critic Reviews for Early Man
Audience Reviews for Early Man
It's hard to refuse Aardman Animation Studios or Nick Park for that matter when you know what you're going to be getting in a film of theirs. The real affection of the film is within it's unique sense of wit and charm that puts a great smile on your face while it makes a hilarious commentary on the prehistoric and ancient class politics of civilization and primitives filled with hilarious puns and jokes throughout. Even if on a surface level the unique visuals offer an incredible sense of authenticity and feasible world-building for a film that cleverly parody's today's world with the ancient world, it's easy enough to recommend to both kids and adults. However, I don't personally think this to be one of Nick Park's finest efforts to date, but it still proves Aardman studios worth to create incredible claymation that's both visually stunning and hugely entertaining. Still however, Recommended!!!
Luke Eberhardt
Super Reviewer
Not a great deal of effort story-wise in this latest Aardman Studio offering, but if the cute factor is enough for you and your kiddies, then this entry won't do so badly. The gist of the thing is a punt at the near religious fervor of soccer fandom, and that does get a few chuckles. the best bit is a bird that delivers messages over distances. Adults fans of Aardman will miss the usual depth of humor though, and the underdone quality lacks verve.
Kevin M. Williams
Super Reviewer
½
It's not quite one of their bests but even a mid-level Aardman movie still presents enough pleasures to justify one viewing. Early Man is in that big-eyed, big-toothed stop-motion clay animation style they're renowned for, so it makes even more visual sense that we're following cavemen. What I wasn't expecting was that the entire movie would be a sports film about the cavemen facing the team of elite soccer players of the Bronze Age. Once that realization settled in, I began lowering my expectations, which lowered further from the less imaginative use of comedy. I chuckled here and there but this is a comedy that relies much upon slapstick. It's at its best when it veers off into strange tangents or really doubles down on its absurdities, like a pig posing as a masseuse or a recording pigeon that acts out its messages. The character work is pretty minimal and relies upon a lot of stock characters, with the supporting players given one trait or less. While lacking in some areas, Early Man is still an amusing story that has its moments of goofy whimsy even amidst the sports clichés. I especially enjoyed Tom Hiddleston's vocal performance as the ignorant, effete leader of the Bronze Age. It's no Chicken Run or Pirates: Band of Misfits, but the gentle comic rhythms of an Aardman movie can still be refreshing. Nate's Grade: B-
Nate Zoebl
Super Reviewer
Early Man Quotes
There are no approved quotes yet for this movie.