Earthwork
(2011)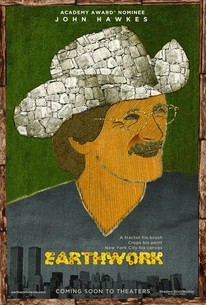 Movie Info
EARTHWORK is the true story of real-life crop artist Stan Herd (played by Oscar nominee and Spirit Award Winner for "Winter's Bone" John Hawkes, in his first starring role), told through a single episode of his life. In 1994, Stan traveled from Kansas to New York City and risked everything to create a massive environmental artwork on land owned by Donald Trump. The multi-acre piece was made from soil, rock, plants and vegetation near an underground railway tunnel. Stan recruited a number of homeless individuals living in the tunnel as his crew. Over the months it took to complete the earthwork, Stan dealt with the difficulties of bringing his unique, rural art form to an urban canvas and the many costs exacted upon his life. In an effort to show his unique perspective to a larger audience, Stan unexpectedly encountered the true meaning of his art and it's ultimate, lasting rewards. Shot almost entirely in rural Kansas (with a one-day shoot in New York City) on a minimal budget, EARTHWORK is Chris Ordal's feature film debut. Ordal, a University of Kansas alum, was taken by Stan Herd's dedication to his temporary art and found it the perfect story to tell through film, a permanent art form. "It was important to me that my first feature capture a story that needed to be told via the cinema. Stan Herd's art is temporary, eventually returning to the earth after it has lived its life. EARTHWORK is an attempt to share the beauty and truth that Stan creates with an audience through a medium that can last forever. Stan has to get people into a helicopter or a tall building in order for them to see his work, so getting his art on the big screen finally allows audiences to experience his art and discover his incredible story." The filmmakers were very determined to exemplify the spirit of Stan Herd throughout production, and thanks to an amazing and supportive crew, EARTHWORK was a production as "green" as the story it told. -- (C) Official Site
Critic Reviews for Earthwork
Audience Reviews for Earthwork
½
Beautiful story about a real artist and his struggle to get his art in the public eye. Delightful cast, uplifting story, truly enjoyable. I especially enjoyed getting to know the rag-tag group of homeless guys that Stan befriends and recruits to help him realize his masterpiece.
Ali Fraze
Before I get to commenting on Earthwork, the new biopic about Lawrence, Kan.-based crop artist Stan Herd, I have a couple of disclosures to make. First, my old boss Jon Niccum plays a journalist in the film. Second, if you've ever seen a photo of Herd's "The Ottawa Beanfield Cola War," I'm one of the 700 people who can been seen in the aerial photograph portraying giant, crushed soda cans. I didn't encounter Herd during the creation of that work. He left it to others to tell us what to do. It's hard to be a Kansan and not have an opinion of Herd's artwork. He works on huge canvases that can only be seen from the air. He creates his pictures by getting people to wear shirts that make up the colors he'll need for certain objects, or he'll grow crops that can do the trick as well. Neither is easy, and his artwork has been made all over the place here. Because he works in an area with a small population and a lot of open land, he quickly made a reputation here. Earning money for his labor was another matter. Earthwork begins in the early 1990s when Herd's career hit a troubling crossroads. The artist (played by John Hawkes, Winter's Bone) wanted to send his wife Janis (Laura Kirk) to medical school but could barely pay his bills. It's not that easy to sell artwork that's plowed over once it's been photographed. Full Review available at http://www.kcactive.com/aande/reel/0511_reel/index.html#earthwork
Dan Lybarger
I loved this movie!! John Hawkes is great; the visuals are stirring; and the story is captivating. Artists of all stripes (and those who appreciate art!!) will truly connect with this film. Must see!!!!
Matthew Hoy
Earthwork Quotes
There are no approved quotes yet for this movie.
Discussion Forum
Discuss Earthwork on our Movie forum!